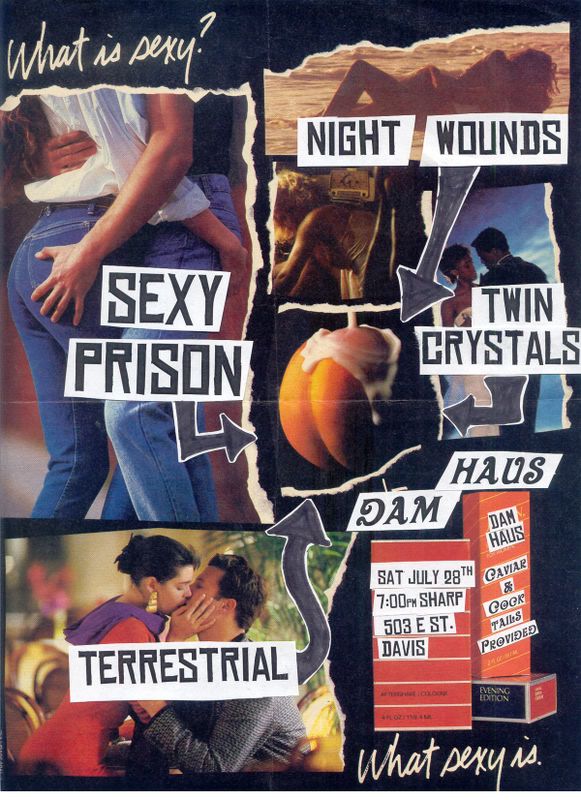 Two years ago, the most boffo electro-booyar party band NoCal has ever seen--
Sexy Prison
--played a "last show ever" at the DAM House in Davis which also served as bassist/programmer/culture-jammer Robert Pickle's going away party, as he was off to Rhode Island to get even smarter in Brown University's advanced geophysics degree program. Soon after, however, both he and vocalist/party-stoker "Dawson" began emailing tracks back and forth and coming up with new Sexy Prison songs. And this week, Robert is back in Sacto for Sexy Prison practice to prepare for the reignition of the live performance legend, which debuts this Saturday in my living room. In the past, this band always reminded me of what a sample-rich Mens Recovery Project dance party or a gothless Skinny Puppy gone hyphy, but now I'm thinking it's Cheveu minus the guitar-raunch, but adding Peter Hook-ish bass (you can really hear that comparison in the vokills and the beats). I also would often compare them to early Severed Heads because of the tendency to ride sample repetition almost to the edge of I-can't-take-it-anymore before changing it up. Great black humor approach to what is essentially music for a dance party.
Night Wounds
are another true treasure of today's music that could be called a dance-party. They even impressed
Siltblog
's Roland Woodbe so much that he wrote this:
It is nothin short of a goddamn pleasure to encounter a record from a Los Angeles band what's got it's limbs 'n lungs attuned to avant styled scraping's. The Thin Wrist label ably provides as much w/every release by in house trucker's like Open City or Curtains & the Not Not Fun collective have a veritable Spahn Ranch of sonic assassins loose on the landscape as well. And as if that weren't enough, here comes this long player from Night Wounds bringin it's own brand of aural slaughter to the barnyard. Released on the Woodsist label, 'Allergic To Heat' is a solid block of dunt that fuses the distant Kraut thump of nascent Savage Republic w/the No Wave distillation of (early) Silver Abuse & End Result that's capable of peelin both skin 'n paint, either of which is dandy by me in these frigid times (I could stand to lose a couple pounds & an apt. makeover wouldn't hurt). Not that I'm insinuatin Night Wounds studied the moves of any of them bands. Hell, for all I know, they might've work up one mornin, heard something by Sightings or Blues Control, thought they was Pop bands & figured it weren't a bad racket to be in. Some people's got strange notions. All's I know is that they's armed w/both squall 'n thunder & hats off to Woodsist from providin the lightning to ignite this record like a Mars bonfire. Nice screen printin on the jacket too. Let's see...a NYC label makin itself available for an LA band...I do believe we's all FINALLY startin to 'just get along'. Amen for that!
. The band is based in Portland now, and the album's also on CD from Corleone. As good as the record is, this band does especially excel in live performance, where it becomes apparent that they've uniquely yinned their authentic bleak no-wave guitar tones and rhythmic skeletons to the yang of engaging catchiness and singalong choruses, and that mutated sax which adds an alluring lushness is the tastiest gravy on top.
Twin Crystals
are normally a duo from Vancouver, BC. Shuffling rhythms propel an icy Martin Rev (Suicide, know?) edge while Jesse (whom you may know from Channels 3 & 4) adds a strong dose of charisma, like if Alan Vega's style had been bred on the young Prince rather than Elvis, the lounge years.
Terrestrial
is a new band from Sacto and Davis. These dayglonoise/jamrockers will plead their case to the jury, but as we have already grown accustomed to the rulingness of ex-members of HGCG and thee Standard Tribesman himself, we are already predisposed to return a verdict of not guilty of sucking.