Rather than extreme-blogging all over the place and mad-cuttin' & pasting all over the web, I figure I'll scale back those efforts and use this as the primary place to post playlists, write about new music discoveries, and interact with listeners or curious people wanting to know more. As always, I'll try to find links for every band and label so that you can learn more about this music, and perhaps even buy it if it's new or still in print.
Two ways to listen...
Stream the latest show
at this link right here!
OR better yet…
Link to mp3 show archive
(find "DJ Rick - Art for Spastics, Tue Mar 21") high & low bitrates available
AMOEBA MEN
– Marinating – Let the Infection Set In –
CNP
*new
SHE-RAT
– Mixed Emotions – demo CDR – Self-Released *new
LIARS
– To Hold You, Drum – Drum's Not Dead – Mute *new
COLIN NEWMAN
– Fish Five – Provisionally Entitled the Singing Fish – 4AD 1981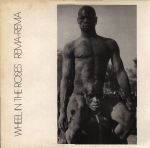 REMA-REMA
– Instrumental – Wheel in the Roses 12" EP – 4AD 1980
FRUSTRATION – Faster – self-titled 7" EP –
S-S Records
*new
ZOS KIA – Thank You – Rape 12" EP – All the Madmen 1985
CHEVEU
– Dog – Dog 7" – S-S Records *new
HUMAN HOST
– Mold Lungs – Exploding Demon – MT6 *new
BATZ
– PYF (PYF) – self-titled 3" CDEP – Self-Released *new
GODHEADSILO
– You Must Pay – Elephantitus of the Night –
Kill Rock Stars
1995
THE POPE
– Dance of the Czars – Ascendo Tumm! –
Pacific Rock
*new
SOCIETY OF FRIENDS a.k.a. QUAKERS – Pallet Jack Pusher – Growing Up Moving Away –
625
2000
CORPSE FUCKS CORPSE – Rock Me Dr. Zaeus – v/a: Four-Way Split LP –
Omnibus
2003
THE BETTER TO SEE YOU WITH
– Needles – self-titled CD –
Celestial Gang
*new
THE BETTER TO SEE YOU WITH – TV Actor
THE BETTER TO SEE YOU WITH – Advertisement
JONNYX & THE GROADIES
– Castle/Face – self-titled CD – Self-Released *new
MIKAELA'S FIEND
– Track 1 – March 2006 Tour CD – Self-Released *new
PARTS & LABOR
– Drastic Measures – Stay Afraid –
Jagjaguwar
/
Brah
*new
HO-AX
– Anal Cavity – v/a: 2006: The Year of the Cockroach – CNP *new
PLEASE QUIET OURSELVES
– Whalebones – Comin' Awoke EP – Self-Released *new
AFRIRAMPO
– Sore Ga...Guruguru Guru – Bored Fortress Singles Club split 7" w/ Hospitals –
Not Not Fun
*new
K.K. RAMPAGE
– Fork in Your Pussy – Sides E & F 7" EP –
Rococo
*new
FAT WORM OF ERROR
– La Montdans la Ville du Bois Vert – Pregnant Babies Pregnant with Pregnant Babies –
Load
*new
MIDMIGHT
– Certain Arrangements – Almost Clear –
Resipiscent
*new
MIDMIGHT – Buffalo
ARGUMENTIX
&
BRIAN MILLER
– Antagonizing Fits of Comedy Corrupted by the Father Meets the Cat – I'm a Cat Lover, Not a Fighter 2 x 3" CDR –
Deathbomb Arc
*new
MAGIK MARKERS
– Side Paris – A Panegyric to the Things I Do Not Understand –
Gulcher
*new
JACKIE-O MOTHERFUCKER
– The Louder Roared the Sea – Flags of the Sacred Harp –
ATP
*new
ZELIENOPLE
– It´s Still Hard to Steal Cars – Ink –
Loose Thread
*new
PSYCHIC ILLS
– January Rain – Dins –
The Social Registry
*new
Amoeba Men are related to the noise-core/powerviolence band Suppression who had so many great releases in the 90's. Now they skronk dance-accessibly, but it still packs too much wallop to qualify as selling out. AIDS Wolf fans may dig.
She-Rat is a new San Diego band from the ashes of Year Future and Fucking Angels, and I'm excited that they'll be playing my living room at DAM House this Saturday.
Liars are surely hyped well enough, but they keep improving and grow more deserving of it.
The best of Colin Newman's solo work in the 80's is just about as good as anything from the first couple of Wire albums. Occasionally too cluttered-sounding as to be cloying, but otherwise perfect.
This Rema-Rema EP was the first ever record on 4AD, and members went onto Wolfgang Press. I bought one of Wolfgang Press' records as a teenager and tried to like it, but ultimately gave it to a friend. Should I try giving them another chance?
Scott's new 7" by Frustration is really great artpunk, and perfect segueway (I think, anyway) for this Rema-Rema song. This French band shares members with Anteenagers M.C.
Zos Kia is basically Coil by another name, and it's a bit more "rock" than anything Coil did. This is determined monotony of thee highest degree, right up there with the Fall, Country Teasers, and all the other artpunks well-versed in the three R's, the three R's, the three R's (repetition, repetition, repetition).
Cheveu is another great new arty tweener garage band from France that Scott just released. It's pronounced "sha-voo" so far as I know. SS described it as "Oblivians meets Trio," and that makes perfect sense to me.
Human Host are ex-Charm City Suicides who make diverse artpunk with elements of garage, low-rent electro, and a multi-media approach. It's alienating performance art when you see 'em live, but their songs can be rather catchy and crafty as you can hear here.
Batz are two awesome youngbloods from Placerville, CA, and members of Hot Girls Cool Guys. This completely DIY 3" CDR comes in a creative labor-intensive package, and the songs show great promise. Low-rent electro meets neo-no-wave...this has me wondering if they've been delving into Zeek Sheck looking for new inspiration.
Godheadsilo might have been the patient zero band of all duos on the spectrum from noiserock to "brutal prog," and The Pope might just be this decade's best answer to them on the strength of their last two releases.
Society of Friends a.k.a. the Quakers...how come no one ever talks about them? Such an odd combination of rhythmic convolution and furiously shredded powerchords! Corpse Fucks Corpse was the one local Sacto band that sorta reminded me of them, but with a bit of psychedelic guitar tinge that was almost Baiza-esque. Two members of CFC have landed in a new band called Switched-On Vultures with other ex-members of every great local band that broke up last year. And CFC's guitarist has helped to found a new neg-vibe bruiser of a band called Negro Pussy with Martin of the superb Sores and his wife Melissa who used to be in the awesome Kill-a-Watts. Lotsa people frown about their name, and I must admit that I'm sorta conflicted about it, too, but hey..."black cat," see! Switched-On Vultures and Negro Pussy open the show at DAM House on Saturday. Full report will be filed after the show.
The Better to See You With are a clever and powerful trio that make an amazing racket that seems to bear some relation to "Trout Mask Replica" and powerviolence, with the oblong stuttering rhythmic pace of the former and the brutality of the latter. The twin bros in the band are the selfless fellows who run the Portland art space/resource known as "Hotel," which is occasionally venue to a great, fun live show. They're two of the nicest guys I've met lately.
JonnyX & the Groadies are the star attraction of Saturday's DAM House show, and it's an honor to have them back. Their first full-length album took long enough(!), but it was more than worth the wait. Slashing/thrashing guitars, banshee-wail vokills, icy synths, and a drum machine that makes the Sisters of Mercy's "Doktor Avalanche" sound like demo mode on a Casio SK-1. The epic-ness of black metal is rife on the new CD. Their DIY light show is one of the most ridiculous and incredible things you will ever witness.
Mikaela's Fiend are my favorite noise-rock duo already, and at just 18 and 19, it's frightening to think they're bound to improve even more. New CD's coming soon on Strictly Amateur Films, and this track is a preview from it. They currently touring the U.S. now. If you get a chance to see them, go...they'll un-jade you real quick!
The new Parts & Labor album also has a soaring melodicism and epic-ness. It's not out for another month, but watch for it. They're coming to Davis in May, too.
Ho-Ax is short for "horrible accidents," I guess. This track comes from the new sampler CDR compilation from CNP which costs $2 and boasts a great variety of noisy rock and noise, and it all has a sense of humor.
Please Quiet Ourselves is a precocious 13-year-old solo artist from Berkeley, and he's the cousin of DJ Elisa Rocket. There's a hint of cracked electronics and folk/indie on the 4-song CDR. Sebadoh, early Smog...that's what it reminds me of.
Afrirampo and Hospitals share the newest split slab from Not Not Fun, which is only available to subscribers of the "Bored Fortress Singles Club," which is infallible so far.
K.K. Rampage are dudes that began as a completely antics-based noiserock band steeped in the influence of Chicago's local heritage as the neo no wave capital of the 90's. Previous CDR releases I've heard were largely uneven, mostly meandering, but this first vinyl release reveals a more serious band who have focused on rising above the baseness of being antics-based...there are actual
ideas
at work here! Fans of Harry Pussy, give it a try.
The new Fat Worm of Error album is the ultimate neighbor annoyer. This band is forever compared to Caroliner, and some haters like to slag 'em for not being "weird enough," like the rustic ruralisms of Caroliner are so necessary to mimic. But I say the haters are fools 'cos Fat Worm of Error have succeeded in becoming the freest band in rock, rhythmically speaking. The rhythms sputter and ooze, seemingly like the movements of microscopic organisms.
Midmight is mostly a mystery to me now, but it reminds me of listening to Negativland's radio shows when I was a kid. This CD is made of recordings from records, CDs, radios, and random places like the insides of Taco Bells.
Argumentix & Brian Miller are a collaboration made in heaven for fans of the most alienating edge of the "free twee" genre, which I intend to make stick. Do you love your cat so much to sing songs to them? Of course, you only do it in private, and certainly, your cat's not a fan of cracked power-electronics, guitar-feedback, and aggressive tribal bongo beats that sound like they were recorded in a limestone cavern. The "twee" part is knowingly cute, like the jangly indie-pop stuff, but the "free" part means spontaneous and courageous, and totally fucked!!!
This Majik Markers release is their first actual CD that is not a CDR, and it's on the venerable Gulcher label that was known for all the great punk and new wave records from Indiana in the 70's. And it's a major point of local pride 'cos it was recorded live on KDVS in Davis by Andy Pastalaniec who has progressed over the past couple of years to become one of the steadiest and most dependable engineers I've ever known, fully able to follow a band's specific instruction or let his creativity take a band to a whole 'nutha level of brilliance. Anyone in a band who would like to take advantage of his services can contact me, and I'll patch you through to him.
Jackie-O Motherfucker has never sounded so beautiful as on this most recent album.
Zelienople came to me with a one-sheet from the label which proclaimed a Zoviet France influence. That sure sold it short...Zelienople is way better than easily sublimated barely-there ambience. I intend to sit and listen to it in its entirety later this week. So far, it might become one of my favorite new things to skirt the edges of folk/indie, psych, and experimental. Put that Animal Collective CD down.
I need to listen more intensely to Psychic Ills, too. What little I heard sounded awesome and reminded me of Spacemen 3.