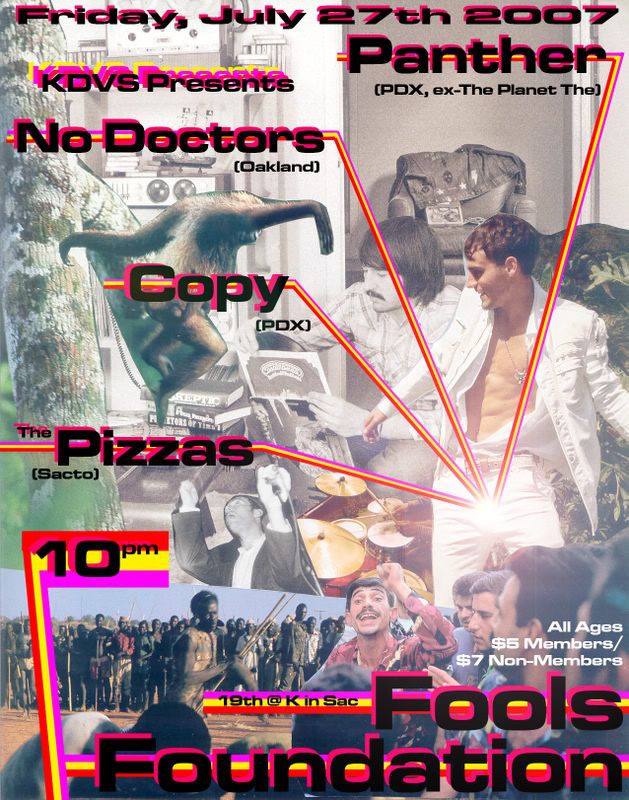 DANCE CONTEST RULES
: During each band, a winner will be picked by me based strictly on my own personal opinion of what is awesome. Two bands rock, two band electro, so the playing field is fairly level between people who actually know how to dance and people who just spazz around or do some interpretive lurch/bop action. Four bands, four winners.
Winners gain free entry to all "Feats of Strength" shows from 7/29 through 8/6.
Winners also get free super-deluxe beverage reserve at DAM House show on 7/28 with Sexy Prison, Night Wounds, and Twin Crystals.
If you care not for competition, this show's just gonna be a really fun time regardless.
Panther
is Charlie from Portland, formerly the singer of The Planet The, a masterful stage commander with tai chi-ish dancemoves. His electro-funk is getting slinkier and more Prince-ly. You might not even need to be a fan of the music to enjoy the show. Here, watch...
http://www.panthertouch.com/
No Doctors
are rad bros from Oakland via Chicago via Minneapolis. They had been known for the blues-soaked garage barrage of their
Hunting Season
album when they moved to the west coast, but on their brand-new
Origin & Tectonics
LP+CD (180g vinyl comes packed w/CD), they snap to a form more objectively recognized as blues-based rock but still take it over-the-top with their spirit and realness. This is an excellent record, and Elvis DeMorrow is a bonafide guitar hero now. Someone's gonna win the contest probably during this particular song...
http://nodoctors.com/
Copy
is Markus from Portland, and
BPM
mag says of his latest album: "If Marius Libman is concerned with being pegged as another Eighties' revivalist, he's not showing it. Sure, it'd be easy to discredit his debut album as the definition of his production monicer - a Copy.Yet there's more to Mobius Beard than meets the precursory preview. Occupying a strange space between Ghostly glitch and saccharin-sweet electro-pop, there's a suprising unpredicability within each track. On "Plagiarhythm", warm phonograph pops and a seemingly tepid hip hop beat play sleight-of-hand on the ears, suddenly engaging as swirling cyclic melodies skate figure-eights around organ-drum rhythms just this side of Ratatat. "It's A Little Too Late" combines the gleeful spirit of Yaz filtered through an NES emulator. Throughout the rest of the album, Copy continues eschewing the boring winks and prerequisite electro-set posturing for sincerity, and Mobius Beard reflects the sound of an artist who removed the tongue from his cheek before licking the 9-volt of Dre, Yellow Magic Orchestra and Isolee. Zap!"
http://myspace.com/copy
The Pizzas
are Sacto's newest garagepunk band to sneer snidely and Gregg-jangle into your heart. Members include Matt K. of th'Losin' Streaks and ex-Zodiac Killers and Charles of Rock the Light, Megacools, Sunshine Smile, and a million other Sacto bands that sometimes mix the sloppunk with discipledom of Ginn and/or Moon. These four songs sound awesome...
http://myspace.com/lovethepizzas
Kinda schizo of us to do a show with two righteous rockers and two electro-booyar-poppers, but HEY! Double the constituents equals more fun fashion faux-pas dagger-starin' (no, actually, I think we can probably all get along!).
This is the first show in a series we call
SACTO/DAVIS FEATS OF STRENGTH FEST
(if someone besides John Pritchard or me goes to
all
of these shows, something awesome will come your way from me to you (I haven't decided what yet)).