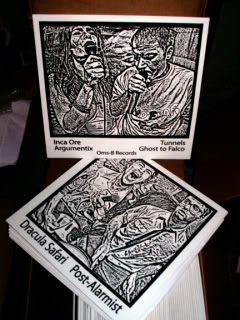 Just out on
Oms-B
is a four-way split LP--
Post-Alarmist Dracula Safari
--of solo projects led by the members of Portland's
Alarmist
. How I fretted about missing their last ever live show when it was announced at an inopportune time for me to bail from the office. They were one of most outstanding live bands on the planet in the middle part of this decade, and their odd amalgamation of seeming ill-fitting parts (an unlikely duet of male tonally-challenged physical growler with female feline part-time shrieker/part-time delicate meower over a scant backdrop of lithe-sinewy strands of guitar (no bass) and clever jazzpunk drums that were plenty stout enough to hold the entire band together!) blended miraculously, bringing to mind a brasher take on
U.S. Maple
or
Sonic Youth
at their most threatening circa
Sister
. All the members were gregarious and hyper-creative in their individualistic ways, so certainly I shoulda known that from the rubble of Alarmist, many intriguing new bands and projects would spring. Each of the four members' primary solo projects are featured on
Dracula Safari
:
Inca Ore
,
Argumentix
,
Ghost to Falco
, and
Tunnels
. Tunnels is
Nick Bindeman
, who's been the busiest of the four; when Nick's not scorching the psych-swirl ethers in
Eternal Tapestry
(who are becoming evermore walloping and tremendous), he's been the most interesting thing about the best moments of
Jackie-O Motherfucker
(and noticeably absent when they've been at their boring-est (Inca Ore has also contributed well to JOMF)). Another little treat on this slab is the B-side intro, a live-radio call-in poetry tribute by fan and friend of the band,
Meghan Remy
, the lady who's better known to you as
U.S. Girls
. Not only did these four solo projects and other affiliated bands rise from their ashes, Alarmist inspired many of their friends to become more musically active, including Meghan. In this playlist, I've included other post-Alarmist moments, some of which intersect with U.S. Girls prehistory. Meghan and Nick were all the wallop in
Hustler White
, another band whose best live moments are forever etched in my memory. I'll give you more of this story down below the playlist; now get to some listening...
Download this program within three weeks at this link...
CLICK HERE for 192kbps rate.
(no 320kbps this time, sorry!)
CALIFORNIA RAISINS
| Prospectre to the Stars | v/a: split 10" w/ CAVE |
Permanent
2008
BRIDEZ
| Rolling Stoned |
Rolling Stoned
7" |
World Famous in SF
*new
LOVE TAN
| Switch |
Miscellaneous Night Feelings
|
Kill Shaman
*new
IDLE TIMES
| Get Your Feet Off the Ground |
Get Your Feet Off the Ground
7" |
Woodsist
*new
MEERCAZ
| Legend |
Meercaz
|
Gulcher
*new
CRUCIFUCKS
| When the Top Comes Off |
Wisconsin
|
Alternative Tentacles
1987
CRUCIFUCKS
| Annual Report |
The Crucifucks
| Alternative Tentacles 1984
UNHOLY TWO
| Altamont 1969 |
Altamont 1969
7" |
Columbus Discount
*new
ALARMIST
| Flight of the Corpse |
Evil Works Get Rich or Try Dying Evil Works
|
Frenetic
2005
M. REMY
| Ode to Alarmist | v/a:
Post-Alarmist Dracula Safari
|
Oms-B
*new
U.S. GIRLS
| So Ladder Strong |
Kankakee Memories
7" |
Cherry Burger
2008
ME CON
| untitled |
This Is It
CDR | no label 2005
TUNNELS
| Case of the Dreamer | v/a:
Post-Alarmist Dracula Safari
MALIBU FALCON
| untitled |
How Is Hell Fact Met? All of Them Witches
CDR | no label 2004
MALIBU FALCON
| untitled |
Boa Constrictor
CDR | no label 2004
HUSTLER WHITE
| Cosmic Egg Creation | Tour CDR | no label 2005
DEFEKTORS
| Doomsday Girl |
Secret Trials
7" |
Nominal
2008
TWIN CRYSTALS
| Children |
Twin Crystals
|
NMR
2008
DECEPTION BAY
| All My Future |
My Color Flag
|
Independent Project
1991
NICE STRONG ARM
| Date of Birth |
Reality Bath
|
Homestead
1987
MY DAD IS DEAD
| Pile It On |
The Best Defense
| Homestead 1988
TEENAGE PANZERKORPS
| Shopping Blitz |
Games for Slaves
|
Siltbreeze
*new
DIAGRAM BROTHERS
| There is No Shower | v/a:
Messthetics #106
|
Hyped2Death
*new (orig 1980)
CRAWLING CHAOS
| Mummy's Tummy |
Homunculus Equinox
| Boutique 2003 (orig 1981)
THE CRAINIUM
| You Pretend that You Depend |
A New Music for a New Kitchen
| Slowdime 1998
FINALLY PUNK
| Coffee, Tea, and Misery |
Coffee, Tea, & Misery
7" |
M'Lady's
*new
MALE BONDING
| Lick Him With Fists | split 7" w/ Pens |
Paradise Vendors, Inc.
*new
TRAFFIC PATTERN
| 3-D Vapors |
Sight-Gags
3" CDR | Opt Out *new
TRAFFIC PATTERN
| Loopholes
MLODRS
| A3 | cassette | no label *new
RUSSIAN TSARLAG
| Singaloid Bay |
Community Death Tube
|
Night People
*new
LITTLE STEVIE McCABE
| Drunken Party |
Sweat It Out
| no label 1986
http://itsmeyou.ytmnd.com/
(Congrats, Rickey Henderson!) w/
DESIGNER
| My Favorite Toy | split 7" w/ Bunny Brains | LHG 1996
LOVELY LITTLE GIRLS
| Lady Flops Over Crawling Along |
Dilapidated Head & Torso Aggregations
| no label 2008
DRUID PERFUME
| Learning Spanish Like Cuckoo |
Druid Perfume
| Pigs *new
MUDBOY
| side A (excerpt) |
Mudboy Beats III: Metal USA
CS | no label *new
Before we get to the rest of the post-Alarmist story, I wanna share a link that was brought to my attention by Eric, a TermBo buddy, and the cause of this week's
Crucifucks
double-shot...
http://www.viceland.com/int/v16n1/htdocs/the-troublemakers-515.php
This is
Sam McPheeter
's indepth piece about Crucifucks vocalist
Doc Dart
. It does a great job to help explain the intrigue surrounding this man who was one of--if not
THEE
--most outstanding lyricists of hardcore punk rock in its 1980s heyday. From
Vice
magazine, this is an unexpectedly thrilling read!
So, where did we leave off in that post-Alarmist story? It's the point at which this story intersects with U.S. Girls prehistory. Nick gave up drumming for Alarmist and picked up a guitar for Hustler White, and Meghan picked up the drumsticks for the first time ever and clobbered those drums with a deathgrip. Meanwhile, Nick also played with
Eva
--still a ways off from becoming
Inca Ore
--who developed her voice in ever more subtle ways during the brief life of
Malibu Falcon
. There's only two CDRs of live Malibu Falcon performance caught by a distant mic [part of which was released on cassette by
Not Not Fun
in early 2009], but there's certainly some magic that comes fluttering outta the speakers on the best tracks. I swear that a solid 12" could be distilled from it. Whereas Eva's bewitching performances in Alarmist were equal parts wicked-witch and friendly-witch, and perhaps still brushed with a post-riot-grrl stroke of brattiness, her performance in Malibu Falcon was more abstract and daring, yet definitely more mature. As she developed the confidence to perform on her very own as
Inca Ore
, I could see how much it inspired Meghan to find her own voice, which began on the early
Me Con
recordings. Certain moments of
This Is It
surely hint at the haunting power of U.S. Girls. When Meghan began recording that
Introducing...
demo CDR which provided the basis for the Siltbreeze LP, she kept Nick closeby to assist in the recording, as he had done with Inca Ore's first recording, the
Brute Nature vs. Wild Magic
CDR, which later became an LP on Weird Forest Records.
There's some unreleased Me Con stuff that immediately predates U.S. Girls. About an album's worth (recorded by
Sam Schauer
of
...Worms
and
Modernstate
), it was intended for release on Marriage Records before the band disbanded. In this version of the band, they coalesced into a deep-burrowing groovey psych-rock with a metal-level heaviness provided by a drummer they found who looked like someone you might see cruising your local Guitar Center. I only briefly heard this on a rough-mixed CDR, but it sounded swell. And when I saw them live at a warehouse show on NW Pettygrove in Portland, I was amazed by Megan's no-wavey bass guitar squelching...how it meshed with the hesher's drums and balanced the diffused psychedelic headswirl of the guitar, it was as sinister and relentless as
K.K. Null
in
A.N.P.
Nowadays, Eva and Meghan's solo works are well-chronicled on dozens of blogs and increasingly even the printed page. And Nick's bands are getting more recognition all the time, although I also believe them to be largely misunderstood. A band as overly prolific as JOMF can have that effect; and certainly, hardly anyone has heard the full power of Eternal Tapestry yet. That band became truly intrepid chasers toward thee infinite riff this summer...believe me! Anyone who's of the mind that they make poofy clouds of wizard dust music has 'em all wrong now. The new tape on
Night People
bears it out on Side A pretty well despite some rather distracting hiss. Here's to hoping they commit a masterpiece to vinyl really soon!
I was already a fan of Nick's Tunnels solo-material when it was patience-testing meditative bowl n' bell harmonics exercises, but recently, the changes I've heard truly command your attention! Tunnels' summer CDR release--
In Between Dreams
--included fleshed-out songs of psychedelic bliss and a hint of spooky wonder that sounded like a full band, and these tracks from the
Dracula Safari
LP seem to have been touched by the recent "minimal wave" zeitgeist just a little bit. If these songs had been released together on a 7", fans of the likes of
Indian Jewelry
,
Dead Luke
, and
Martial Canterel
would come clamoring for it. No sign of second-wave try-hard here...This sounds perfectly natural!
In AFS v. 208, we'll check in on the other half of Alarmist,
James Squeaky
and
Eric Crespo
.