.
Download AFS v. 110 (w/in next 10 weeks)
...or stream it (by Dec. 4).
THE NEW FLESH
// Whitewash // Vessel //
Heart Break Beat
*new
THE NEW FLESH &
ROBERT INHUMAN
// Punched in the Head [Drunks with Guns] // Punch Drunk in This Shit World 7" //
Human Conduct
/
Realicide Youth
/
MT6
/
Cephia´s Treat
*new
JUNKPILE JIMMY
// Life [Flipper] // Alberhill 2xLP // Cártel Ilustré *new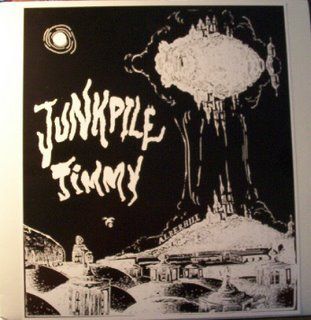 JUNKPILE JIMMY // Puta Suerte
AIDS WOLF
// Put Your Head on a Plate // 4-way split 2x7" w/ Crack und Ultra Eczema, PRE, and Dmonstrations //
Lovepump United
*new
PRE
// Dude Fuk // 4-way split 2x7"
HOT LOINS
// Buzzkill // Buzzkill 7" //
The Broadway to Boundary
*new
TWIN CRYSTALS
// Trinity // 4trk CDR //
Deer and Bird
*new
N.213
// Francine´s Bad Dream [Mutators] // Fucksexyou cassette //
Isolated Now Waves
*new
N.213 // Scars
SHEARING PINX
// Cursed Heart Matter // Poison Hands dbl 3" //
Not Not Fun
2005 *request
MODERN CREATURES
// House on Fire // split cassette w/ Shearing Pinx // Isolated Now Waves *new
THE YES SIRS
// Anthem Too // Dos Locos //
CNP
*new
HALLELUJAH!
// Pink Antenna // Dirty Revival // CNP *new
JAY REATARD
// Not a Substitute // Blood Visions //
In The Red
*new
ABE VIGODA
// The Walk // Kid City // olFactory *new
EAR & DARK
// Be Your Mama // There´s No Such Thing as Dragons 10" //
Black Light
*new
NO FEELING
// Don´t Tell Me What to Do // split 7" w/ Ladies Night //
Seeing Eye
*new
BRIAN WILSON SHOCK TREATMENT
// Hey Sister // The Lords of the Infinite Cosmos 7" //
Slutfish
*new
NOTHING PEOPLE
// Systems Failure // Problems 7" //
S-S Records
*new
FARCES WANNA MO
// Lady Preacher // Farces Wanna Mo Covers Slept on It! // Self-Released *new
SKAREKRAU RADIO
// The One Eyed Rod Is Love // The One Eyed Swine Is Queen //
Apop
*new
WHITE TIGER PREPADE
// Unicorn Asteroid // v/a: Exercise for Exorcisms vol. 1 //
Unnecessary Friction
*new
COCA COLA // Show Me Whatcha Got on the Dancefloor // v/a: Exercise for Exorcisms vol. 1
UNICORN BASEMENT
// Cannibal // Self-Titled // Unnecessary Friction *new
UNMONO
// 13th Bender Kranky ShangriLaLa // split cassette w/ Kate Hall & Elijah Forrest //
Deathbomb Arc Tape Club
*new
ARGUMENTIX
&
ADAM GNADE
// We´ll Help You Out, Neighbor // Wilderness and the Holy Gold //
Below PDX
*new
ARGUMENTIX &
BIRD COSTUMES
// Tranquil Devastation // Armageddon . . . Maybe Later // Below PDX *new
BIRD COSTUMES // Natural Disasters // split cassette w/ Aerosol Constellations // Isolated Now Waves/
Thankless
*new
SUSAN SCHROEDER, JESSE WILEY, & BEN PHILLIPS // side A // Of Sex, Your Body lathe-cut 7" //
Deer and Bird
*new
REFRIGERATOR MOTHERS
// Black Moth Scrap Serum // Arab National Anthem 7" //
URCKarm
*new
DEATHGLEANER
// Life With Lice // v/a: PDX Artix Mixtape CDR // Below PDX *new
While I was gone, I managed to see Baltimore's burliest brawlers
The New Flesh
five times, including a full set recorded in Studio A at KDVS which I plan to air in its entirety once I've edited out the between-song silence. So yeah, I saw them five times in six nights, and it never got old for me. This is one of the most tremendously assaultive and agonizing bands ever.
Like last year's message board darlings
Pissed Jeans
(and curiously this year's goats since they came out with a record on Sub Pop), the New Flesh seem to have every song ever by
Fang
and
Drunks with Guns
committed to memory, but unlike the Jeans boys, the New Flesh dispense with all humor and punch up the negativity two or three rungs higher with militaristic drumwork featuring machinelike repetition of tom rolls and fills, more complex rhythms, and alien guitar chords. It sounds like all of Pissed Jeans' influences have gone into the New Flesh's funnel, too, but additionally, you hear some early
Swans
,
Missing Foundation
,
Brainbombs
, and
Whitehouse
.
the New Flesh @ Jeff the Pigeon
The New Flesh seems to have made more inroads in the noise scene than with punks, rockers, etc. I've heard from
Brian Miller
(D.I.Y.C.E.O. of
Deathbomb Arc
) that the band
Dynasty
, the Providence band comprised of
Kites
and
God Willing
—and the band which caused such a stir on their tour with
Coughs
this summer—focused on the New Flesh as their primary influence. And perhaps this was emblematic of the most noteworthy trend in the noise scene in 2006…noise dudes picking up guitars, basses, and drums and letting all hell break loose.
Deep Jew
—with a cast of artists from the
Troniks
/
Pac Rec
stable—was another to do this in 2006. Another band active for a while within this idiom is
Byron House
, and their show I caught at the ATA in San Francisco this summer was impressive. Certainly
Sightings
and
Burmese
seem to be relevant to all of these bands, too, and Sightings in particular have made blogwaves on both sides of the noise and rock divide. If this continues further, I see a great opportunity for this
neo-pigfuck revival
making friends outta more punks and noisefreaks.
The "Vessel" album is the strongest New Flesh release to date, but the nastiest has gotta be their one-sided collaboration 7" with
Robert Inhuman
of
Realicide
and
Hentai Lacerator
. Have a listen to this outstandingly authentic cover of DWG's "Punched in the Head" made even more evil by Robert's incredibly harsh demon vokills.
Next up is a late entry into the "Best Album of 2006" sweepstakes, the limited-to-226 double-LP of
Junkpile Jimmy
who deploys swampy bluespunk and junkyard metals to take us on an adventure through a diverse array of musical styles from old-timey folk-blues to outsider psych to covers of
Flipper
and an old
"Killed by Death"
classic to even a
Mötörhead
rip and excursions into even more experimental territory. But the whole thing rocks and is totally cogent, and even when Jimmy plays the bluespunk fairly straight, it never sounds too much like the
Oblivians
(which is not such a bad thing for bands that do, if they do it well). This is an absolutely incredible album that is truly unique!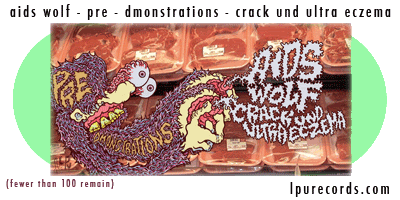 Another startling double vinyl is this new glossy gatefold with stupendous Seripop graphics containing a 4-way split of some of the most exciting high-energy no-wave-informed dayglonoise bands from France, England, Canada, and the States, and they are all in top form here.
Dmonstrations
and
Crack und Ultra Eczema
will hafta wait 'til vol. 111, but for now, but Montreal's
AIDS Wolf
will get you dizzy with corkscrewing guitars, panic shrieks, and odd oval-shaped rhythm. If anyone's still foolish enough to sell AIDS Wolf short with an overly broad brushstroke of the
Arab on Radar
ripoff brush, this might be the final deathblow to all the needless hatergames. This band is daring and exciting and deserves your attention. Next up is the most refreshingly un-British-sounding band in Britain since…I dunno…ever? (At least since
Superhelicopter, Ltd.
, I think!)
PRE
is ignited artpunk with a propulsive yet limber rhythmic bass/drum synergy a'la
Erase Errata
and the right kinda splintery, spidery guitarwork to please the angles 'n' artpunk set. With the helium yelp of the female singer, this almost sounds like an
A Frames
record at 78 rpm. While I was in Vancouver, a friend played me PRE's new 7" on
Blood of the Drash
, and it was even more impressive. A growing number of Americans are courting PRE to come tour the U.S.A., and I will be joining them.
I hope to pick up with more reviews later…
(Check back tomorrow perhaps!)