DOWNLOAD AFS v. 138 (within the next 10 weeks) HERE!
...or stream it (before July 5).
ELECTRICK GARBAGE
// L´escargot // L'escargot b/w Poupée Mecanique 7" // Hard Ckor 1979
CRISE DE NERFS // Rock à la Télé // v/a: Repérages 84 // Label X/La Péniche 1984
TERROR VISIONS
// Taste It (Face) // World of Shit //
FDH
*new
TERROR VISIONS // Itching
ARTIFICIAL LIMBS
// Let´s Get Inert // 5-song demo CDR // no label *new
SICK-E's
// Get Out // Mankind 7" //
Square Wave
*new
NIGHT OF PLEASURE
// Caesar´s Palace // Godard vs. Trufault 7" //
Columbus Discount
*new
NECROPOLIS
// Stumpf // Stumpf b/w Van v. Art 7" // Columbus Discount *new
CATHOLIC BOYS
// Dead Ball // Dead Ball 7" // Trick Knee Productions *new
TALBOT TAGORA
// Penis Gang // Catface 7" // self-released *new
SHEARING PINX
// New Gospel // Poison Hands //
Gilgongo
2007
SHEARING PINX // Slaughterhaus // split 7" w/ Silver Daggers //
Arbor
*new
RACCOO-OO-OON
// Behold Secret Kingdom // Mud Mound 7" // Gilgongo *new
BABY GECKO
// Paint the Streets // split 7" w/ Soft Shoulder // Gilgongo/
Macro-Eden
/
Robothouse
*new
BABY GECKO // Dino IIIIIIII
YOKOHAMA HOOKS
// Panic // split 7" w/ the Flip Tops //
Iron Goat
*new
THE SHUDDERS
// Battleground // Battleground 7" // Compact *new
DAVID COPPERFUCK
// Chalet Chalet // Chalet Chalet 7" // Party Turtle *new
FUCKING ANGELS // Dead, Baby // split LP w/ Vicious Ginks //
Gravity
1995
MONTERAYS // Blast Off // v/a: Strummin´ Mental part one //
Crypt
ROMANCE NOVELS
// Another Summer // Another Summer b/w Quarter to Four 7" // Pizza Party *new
TRANZISTORS
// Free Electrizity // Free Electricity 7" // Young Soul Rebels 2005
TYVEK
// Future Junk // split 7" w/ Cheveu //
Ss recordS
*new
MOUNTAINS AND RAINBOWS
// Knock Me Out // Knock Me Out b/w Indian 7" //
Cass
*new
MOUNTAINS AND RAINBOWS // Tunnel Vision // Lester's Way b/w Tunnel Vision 7" //
Muddy Mitten
*new
MICHAEL YONKERS
// I Think // split 7" w/ Little Claw //
X! Records
*new
PINK REASON
// Down on Me // By a Thread 7" // Trick Knee Productions *new
EX-COCAINE
// With the With the When the One // Esta Guerra //
Siltbreeze
*new
MYTHICAL BEAST
// Gone to Grey // split LP w/ Pocahaunted //
Not Not Fun
*new
PANICSVILLE
+
PRURIENT
// I Walked My Dog // Wal-Mart: The Rubber Baron 8" //
Rococo
*new
LEGLESS // untitled // Inconsequential (A Game to Pass the Time) 3" CDR //
Terra Firma
*new
PISSED JEANS
// My Bed // Hope For Men //
Sub Pop
*new
NIGHT WOUNDS
// X.O.T. // Allergic to Heat //
Corleone
*new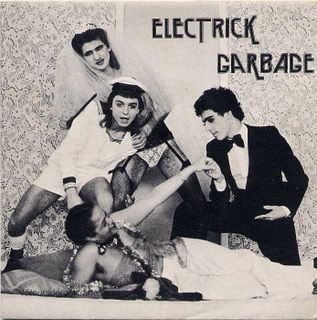 Back in "prime-time" for the first time in 13 years(!), I knew that I had to start this week's AFS off with something of a bang, and ever since Jack sent both sides of the "L'escargot" b/w "Poupée Mecanique" on a 2xCDR mix-tape compilation of French punk/new wave rarities from 1977-1984 from his private collection, I'd been dying to play the A-side. Usually, I get a dozen or so emails per week following each AFS, and listeners and readers of this here blog often ask questions or give comments about bands or songs that I've chosen to play, but this time, I counted a dozen people responding specfically to this song. Six haters and six lovers. That's called a successful work of art. Leave no one feeling lukewarm. To be sure, the gassy glamminess of
Electrick Garbage
's high-spirited vocals and guitar leads sends "L'escargot" totally over the top into the top echelon of bombastic ridic-rockers such as "Two Tub Man" by
The Dictators
, "Gobbin' on Life" by
Alberto y Lost Trios Paranoias
, or even the most undeniable highpoints of
Turbonegro
's
Apocalypse Dudes
(which you cannot deny despite even
Bam Margera
's overexposure of the band). Jack reports that the bassist of Electrick Garbage is now a famous TV actor. How strange then that the band returns such useless results in a Google search. How could someone make a record as rad as this and not be proud of it 28 years later?
Crise de Nerfs
also come from Jack's 2xCDR, so there's not much else I can tell you about it other than it's French and it's very cool.
If you're in significant minority who preferred
Lost Sounds
over
Jay Reatard
's
Blood Visions
, then
World of Shit
by
Terror Visions
is the record you've been waiting for. The 14 songs were recorded from 2002-2006. It sounds pretty much like Lost Sounds, but with Jay's voice and attitude pervading every aspect of it. So, while it's not as well-rounded as any proper Lost Sounds album, it's pulse-quickening, sharply delivered synthpunk that is raw and acerbic with that very off-kilter wit. It's billed as "Jay's synthpunk band," so that automatically invites comparisons to the canonized synthpunks of the late 70's and 80's, but it's not so much like
The Screamers
or
Nervous Gender
...maybe
Rock Bottom & the Spys
are closest on the nastier, rockin' songs, but this is much more contemporary-sounding, like bands such as
S.I.D.S.
or the
Artificial Limbs
, the young band from Kennewick, Washington, who follows Terror Visions this week. Their 5-song CDR should make somebody wanna make a record for them. The most terror-inducing thing about the new Terror Visions might just be the picture of Jay's pimply ass with a mound of blow on it. Dude...totally without ruth!
The
Sick-E's
(from southern California, I presume) are another one of those modern "synthpunk" bands with the rollicky, almost-HC rhythm and slashy guitars. This 7" EP called
Mankind
is a fiery three-song scorcher, but with plenty of style and taste to satisfy even many collectorscumguzzlers. Habanero-hot, for sure.
The next Sick-E's (picture above) is not out yet (July 9th), but it should sell out soon. I snatched up a white-vinyl copy on pre-order as soon as possible, and a day later, there were only a few left. Hurry over to
http://www.goingundergroundrecords.com/
, and get to it.
The cavalcade of Columbus hits keep coming, and this week we flip those
Night of Pleasure
and
Necropolis
records over to find that both sides burn bright, hot, and fast, too. Last year, I met a few folks who didn't share my enthusiasm for the LP by Necropolis ("too indie rock," some complained), but if you were one of them, you need to put that attitude behind you. This new 7" cuts the fat that you didn't like and blasts that broiler at top temperature to make this sizzling sound.
Sadly, the
Catholic Boys
are dead, but Todd Trickknee saw fit to give us a new 7" with three raw blasts from probably the most exciting gah-
rage
rs I saw live in 2005. I'm still not sure if my mind has been unboggled yet after the deft drumming abilities of Eric Apnea made me question the usefulness of these exalted prog-wizard clavé kings. I felt that band drive into my sternum even as I watched them from a seemingly safe distance. And it was sun was shining through the blinds at the time. Surely it was too early to be having that much fun. There's a sweet shitcaked cover of
Love
's "7 & 7 Is" and a midpaced stomper of the flip. This is also a great-looking sleeve.
Talbot Tagora
, the young Seattle band with Chris from
Mikaela's Fiend
showing an altogether different (and more musical) side to his most excellent guitar-playing, first became a fan-fave here last year with their own DIY
Volcano Girls
CDR. They've got sweet charms to allure even the pure pop fan, but there's brimming tension and raw energy to gnarl it up for fans of "teh w31Rdp*nk," too. As I might've said before, this is working a unique stylistic intersection somewhere between
The Intelligence
and
Abe Vigoda
. This is one of four songs from their excellent first 7", another self-release, which unlike the CDR thankfully does not suffer from a noticeable fidelity deficit from bad mp3 (re)compression. I still say that if those
Volcano Girls
tapes are mastered correctly, it would make for an outstanding LP! Can't wait to see 'em later this summer!
I don't hafta wait long for the
Shearing Pinx
to come because they are in Sacto at the
Fools Foundation
tomorrow! Of course, when I say a band is "great," it might not be too resounding because people know that I have a high level of enthusiasm for something like 100 current bands that I might call "favorite," but you know I can make time to support
all of them
. But then, among that hundred, there's really four or five of them that I think are absolutely
incredible
...and I dare say are even
important
. Shearing Pinx are one of those bands! They are prolific, but always excite me with each new ephemeral CDR or cassette release which are nothing like a quick scribble on a napkin like the ones Picasso would pass off to starstruck tourists. Even if a too little or too much thought go into a rambling jam of free-scrawl, this band wins out because I can tell that the way they
feel
music is on a philosophically untouchable level that immediately expressed to the listener...or at least me, anyway. Scrawly improv free-rock is just one small part of what they do. Their releases on permanent vinyl and CD format involve rehearsed songs of taut, urgent, juggernaut rhythm, talus-grinding guitar, and cool delayed vocals that imbue things with a psychedelic flavor, but are still discernable. Fans of early
Sonic Youth
, the
Stretchheads
, and maybe even the first coupla
Venom P. Stinger
LPs oughta get to know this band!
Here's their tour itinerary...
30 Jun Sacto @ Fools Foundation w/ Ettrick, Us Girls, Standard Tribesmen
1 July San Francisco @ Hemlock Tavern w/ Red Nurse, Origami, Jenny Hoyston (of Erase Errata)
2 July Bakersfield @ Backstage w/ Me & My Arrow, Lord Galvar, Alan Greenspan + Swimsuit Rights
3 Jul Los Angeles @ The Smell w/ Mincemeat or Tenspeed & Beach Balls
4 Jul Santa Ana @ The Clinic w/ Robin Williams On Fire, Casy & Brian
5 Jul Phoenix @ Trunkspace w/ Soft Shoulder & Us Girls
6 Jul Albuquerque @ A Space Maybe w/ Finally Punk, US Girls, the Dozal Brothers
7 Jul Richardson, TX @ Radio UTD Summer Noise Fest "The Fuzz Ball"
8 Jul Shreveport, LA @ Cooper Manor
10 Jul Atlanta @ Eyedrum w/ Eiliyas, Club of Rome, Battlecat, & Dandi Wind
11 Jul Knoxville, TN @ The Birdhouse w/ Brain Lesion, Lobster Lobster Lobster, Us Girls
12 Jul Charlottesville, VA @ Tea Bazaar w/ Us Girls
13 Jul Philadelphia @ The Breadbin w/ Masato Tanaka & Us Girls
14 Jul NYC @ Silent Barn w/ Print, Cocaine to Rogaine, Apeshit
15 Jul NYC @ Glasslands Gallery w/ The Fugue & Worms of Dirt
16 Jul Cambridge, MA @ Charlie's Kitchen w/ Life Partners, The Maul, Us Girls
17 Jul Northampton, MA @ Chris Dooleys Dad's antique shop w/ Child Bride, EUU, & Us Girls
18 Jul Cincinnati, OH @ Skull Lab w/ Child Bride, Us Girls, & Abe Vigoda
19 Jul Detroit @ The CAID w/ Us Girls, Child Bride, EUU, & Tyvek
20 Jul Chicago @ TBA
21 Jul Minneapolis @ TBA w/ Gay Beast, Abe Vigoda, John Thill
22 Jul Minneapolis @ The Pocketknife w/ Gumbi & Us Girls
23 Jul Kansas City, MO @ Creative Mind Arts w/ Banana Hands & The Sperm
25 Jul Denver @ Rhinoceropolis! w/ Archaeopteryx, Animal, & Pictureplane
26 Jul Boise, ID @ TBA
27 Jul Portland, OR @ House Show w/ Me Con, Chrome Wings, & more
28 Jul Seattle @ The Greenhouse (possibly)
I will get to more reviews and anecdotes about the rest of the playlist later...maybe Monday! Thanks for listening!