If you are in Sacto or Davis, be ready for Friday the 13th for a memorable night of music and pizza-partying at
Luigi's Fungarden
with
Eat Skull
,
Ganglians
,
The Whines
, and
What's Up?
. That will surely be another show-of-the-year candidate brought to you by
Freeform KDVS
and the
Sacramento News & Review
. Doors are 8:30 and showtime is 9:00 sharp, and fashionably late might be too late 'cos it might sell out judging by the press this one's getting. I've included a couple new songs from the upcoming LP because Eat Skull has let it be no secret that they will be carrying limited-to-100 tour-edition copies of a CDR advance of
Wild & Inside
, their incredible new album that is coming out next month on
Siltbreeze
. Have a listen, and you'll see what I'm saying about Rob spreading his wings as a singer and the band achieving moments of real beauty! This is the best LP of 2009 so far.
This wonderfully weird collage work to the right is by
ILTH
, and it is the cover art for the brand-new 2nd LP--
Late Night
--by
Nothing People
on
SS Records
, just out this week along with the official release of
Dan Melchior
's epic new double-LP with
das Menace
. These albums are both so momentous that they surely give 2009 even more momentum to carry on the current halcyon age of futureclassic vinyl. These are both superb thinkingman's rock records to suit a variety of listening circumstances and deep concentration. Along with the best of the
Wooden Shjips
, Dan's "Blue Tentacles" and the entire Nothing People album are perhaps some of the finest headphone moments in recent memory, as their subtleties reveal themselves upon repeat listens (I'm on consecutive go-around #5 with
Late Night
as I write this, and it's sounding better and better!). Mr. SS warned me that
Late Night
was "definitely a lot more mellow" than
Anonymous
, but that suits my just fine...It might've taken me a while to accede to this kinda record as a kid, but I'm a grown-up now. The title track is an outstanding cover of
Syd Barrett
's original, and hey, young fellas, take it from me as a grown-up...
THIS
is thee best version of the song if you wanna make an impression on a mix-tape for a special young lady. Now go buy these!
Download this program within three weeks at either link...
CLICK HERE for 192kbps rate.
(~ 173kB)
or CLICK HERE for 320kbps rate.
(~ 346kB)
RTFO BANDWAGON
| Dums Will Survive |
Dums Will Survive
|
Dull Knife
*new
GUINEA WORMS
| I Know Where Wil Foster Lives | Singles Club 7" |
Columbus Discount
*new
TYVEK
| Pamphlet | Singles Club 7" |
Sub Pop
*new
ODD CLOUDS
| Gum Coup Follicle | v/a:
Shiftless Decay
|
X! Records
*new
GARY WAR
| Zontag |
Zontag
7" |
Sacred Bones
*new
SPIRIT PHOTOGRAPHY
| Time Is Racing |
Time Is Racing
7" | Sacred Bones *new
LOU CHAMPAGNE SYSTEM
| Inside Outside | v/a:
2 Hemden 2 Hosen vol 6
7" |
Kernkrach
*new
SONNENBRANDT
| Herz Aus Geld |
Gestern
| Kernkrach *new
EAT SKULL
| Talkin' Bro in the Wall Blues |
Wild & Inside
|
Siltbreeze
*forthcoming *request
DAN MELCHIOR UND DAS MENACE
| New York Hole |
Thankyou Very Much
2xLP |
SS Records
*new
DAN MELCHIOR UND DAS MENACE
| Piledriver Nightmare #2 |
Mr. Oblivian
7" | Columbus Discount *new
NOTHING PEOPLE
| Stick in the Mud |
Late Night
| SS Records *new
EAT SKULL
| Surfing the Stairs |
Wild & Inside
*request
EAT SKULL
| Leave the Universe | split 7" w/ Ganglians |
Dulc-i-Tone
*new
VICTOR DIMISICH BAND
| Native Waiter | v/a:
Xpressway Pile-Up
|
Xpressway
1990
BLANK DOGS
| The Threes |
Seconds
12" EP |
Captured Tracks
*new
DUM DUM GIRLS
| Yours Alone |
Catholicked
12" EP | Captured Tracks *new
ABSINTHE MINDS
| A2 |
The Song of Returning Light
CS |
Not Not Fun
*new
BLOOD
| trk 3 |
Evacuated Materials
CDR |
Skrot Up
*new
JAMES FELLA
| Glitched Layers of Leeched Samples | split CS w/ N.213 |
Isolated Now Waves
*new
JAMES FELLA
| Dead Synth Meander
YEAR OF THE LIPS
| Signal to Earth |
Year of the Lips
CDR | no label *new
COLIN NEWMAN
| Image |
A-Z
| Beggar's Banquet 1980
SILENTIST
| Witches |
Chariot Swing EP
|
Celestial Gang
2005
SILENTIST
| Paralytic |
The Tunnel
7" |
Zum
*new
CURSE OF THE BIRTHMARK
| Le Phant |
Welcome to the Hard Times...You're Late!
|
Deleted Art
2005
ACCEPT
| Fast as a Shark |
Restless and Wild
| Portrait 1983
SCHNAUZER
| The Things That Get to Me | split 7" w/ 216 | no label 1997
SCHNAUZER
| Drug Bust/To Hell and Back | split 7" w/ Hangnail |
Hibachi
1998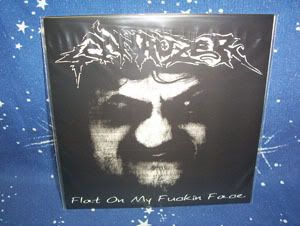 Did I betray my grown-up ways with those
Schnauzer
tracks or what? Hey, what can I say. 10-14 years ago, I was a sucker for any sick 'n twisted northeast Ohio metal, sludge, and noisecore...everything from
Sloth
to
Hemdale
to
Minch
and
Nutscreamer
and the whole
Steveggs
family tree of bands. Even before I saw
Gummo
, it was the music of this delightfully degenerate scene that has me thinking that there was something seriously wrong with the water in the Cuyahoga. There have been many times when I've suffered some aggravation that I've imagined the incensed voice of Schnauzer's
Jim Teufel
yelling "FUUUUCCCKKKK!!!!" (as heard in "Drug Bust/To Hell and Back" upon his discovery of a narky weasel in his grass). Glimpsing into these guy's fantasies of roid rage, methy paranoia, and moral adjectness was quite a thrlling slumtrip of the mind. And now I've discovered that the band's still around(!?!?!) and released a new split just last year. Guess what's on my list to paypal (verb transitive) next!
Anyone sign up
Year of the Lips
for a vinyl LP yet? Hurry it up! Go re-listen to it again!
Because there is no longer a doubt that they are truly one of the best bands on planet Earth today, I must
urge
you to see
Eat Skull
on tour if they come within half a day's drive of you; here you have their merch report and itinerary--straight from the desk of
Rob Enbom
for the month of March...
OK We're going on tour next week. The first four shows are with the Whines. If you've slept on them, time to wake up.
We will have a couple of tour CD-Rs:

Eat Skull 'Wild and Inside' CD-r

Limited to 100 stamped and numbered copies with alternate art work for you ebay freaks. This is our new album that will see a proper release on Siltbreeze in early April.


Tracklisting:

1. Stick to the Formula
2. Cooking a way to be Happy
3. Heaven's Stranger
4. You're With a Thing
5. Nuke Mecca
6. Who's In Control?
7. Killed By Rooms
8. Happy Submarine
9. Talkin' Bro in the Wall Blues
10. Surfing the Stairs
11. Dawn in the Face
12. Oregon Dreaming

Eat Skull 'EUSTA Kill' CD-r

Also limited to 100 copies numbered and stamped, this is a collection of everything that came out on 7" so far and 5 extra songs recorded during or after the Sick to Death sessions.


Tracklisting:

1. Seeing Things
2. Stuff Reverse
3. Things I Did When I Dyed My Hair
4. Dead Families
5. If I'm Insane
6. No Intelligence
7. You Must Be Bugs
8. Double Wasted
9. Leave the Universe
10. Don't Leave Me on the Speaker
11. Thank You Smoke Breaks
12. Negative World
13. Medication Time
14. Stick to the Formula (UK Club Banger Version)

Both of these CD-rs have been mastered by Tim Stollenwerk who does the Mississippi Records comps that everybody loves so much. He's the shit and they don't sound like shit. We will not be doing mailorder on these, just selling them at shows to help pay the bills.


---------------------------------------------------------

Eat Skull 'We Don't Like Adam Anymore' Tour Dates

WED MARCH 11 - PORTLAND, OR @ Kenton Club w/ Kurt Vile, The Whines, Eternal Tapestry
FRI MARCH 13 - SACRAMENTO, CA @ Luigi's Fun Garden - w/ Ganglians, The Whines, What's Up?
SAT MARCH 14 - SAN FRANCISCO, CA @ OCD w/ The Hospitals, Long Legged Woman, The Whines
SUN MARCH 15 - ECHO PARK, CA @ Echo Curio w/ Lovvers, The Whines, Long Legged Woman
MON MARCH 16 - PHOENIX, AZ @ Rampage Fest @ Trunkspace w/ Abe Vigoda, Wavves, Long Legged Woman and more

****SXSW March 18-21****

MON MARCH 23 - El Paso, TX @ Blackmarket w/ Blank Dogs, Turpentine Brothers, Naked On The Vague, Nobunny
WED MARCH 25 - San Diego, CA @ Soda Bar w/ Blank Dogs, Naked on the Vague + more
THU MARCH 26 - San Francisco, CA @ Eagle Tavern w/ Oh Sees, Grant Hart, Fresh and Onlys
FRI MARCH 27 - West Sacramento, CA @ 300 Room w/ Mayyors, Careerers


:::SXSW Shows:::

WEDNESDAY MARCH 18TH:

Beerland Free Day Show, 21+

Can't Stop The Bleeding. com presents
Endless Boogie (NYC, 5:40pm)
The Homosexuals (London/NYC, 4:50pm)
Turbo Fruits (Nashville, 4pm)
The Young (Austin, 3:05pm)
Eat Skull (Portland, 2:20pm)
Dikes Of Holland (Austin, 1:40pm)
Psychedelic Horseshit (Columbus, 1pm)

WEDNESDAY NIGHT SHOW:

Natrix Natrix House - 3222 John Campbell?s Trail, Austin, Texas 78735 - Tyvek,

XYX, Ratas del Vaticon, Eat Skull, Psychedelic Horseshit, Talk Normal.


THURSDAY DAY SHOW:

"The Medieval Reslayathon"
Thursday March 19th
610 Vermont Rd.

Austin, TX 78702

20 min. sets for locals 30 min.
sets for toursters

1:00 Rat Bastard & Doug Ferguson (members of To Live and Shave in LA)
1:40 Mae Shi (Los Angeles - SAF, 5RC)
2:20 Crime Novels (NY)
2:50 Eat Skull (Portland - Siltbreeze)
3:40 Pillow Queens (ATX)
4:30 Wildildlife (Seattle - Crucial Blast)
5:15 Diagonals (ATX)
5:55 Coathangers (Atlanta - Suicide Squeeze)
6:35 Over the Hill (ATX)
7:25 Fiasco (Brooklyn - Impose)
8:05 Roller (ATX)

then:

Driveway Day Show
5615 Jim Hogg Avenue
Austin, TX 78756

2:00 - Magic Jewels
2:30 - Aids Wolf
3:00 - Snack Truck
3:30 - Purple Rhinestone Eagle
4:00 - Hot Lava
4:30 - Eat Skull
5:00 - Mayyors
5:30 - Bermuda Triangles

THURSDAY NIGHT:

Siltbreeze Showcase
SoHo Lounge
217 E. 6th St.

Austin, Texas 78701

8:00 p.m.
Ratas del Vaticano
8:45 p.m.
Eat Skull
9:30 p.m.
Hank IV
10:15 p.m.
Psychedelic Horseshit
11:00 p.m.
Naked On the Vague
11:45 p.m. U.S.
Girls
12:30 a.m.
Los Llamarada
1:15 a.m.
FNU Ronnies

FRIDAY DAY:

End of an Ear
2209 South 1st Unit C / Austin, TX 78704

1pm - Eat Skull
2pm - Crystal Stilts
3pm - Gary War
4pm - Cursive
5pm - Homosexuals

Then:

FRIDAY MARCH 20
2908 COLE STREET
2PM

2-220 the wiggins
230-3 rtfo bandwagon
310-340 teenage cool kids
350-420 kurt vile
430-5 eat skull
510-540 psychedelic horseshit

SATURDAY DAY:

Sound on Sound Records
106 E.
North Loop
Austin, TX 78751

3-5:30pm

Mayyors
Rusted Shut
Eat Skull
RTFO Bandwagon

The Music Gym Free Day Show
815 E.
6th Street
Victim of Time Presents:
http://www. victimoftime. com/

1:00 - 1:30 Guinea Worms
1:45 - 2:15 Christmas Island
2:30 - 3:00 Woven Bones
3:15 - 3:45 TV Ghost
4:00 - 4:30 Digital Leather
4:45 - 5:15 Intelligence
5:30 - 6:00 Eat Skull
6:15 - 6:45 Psychedelic Horseshit


Woodsist Showcase:
SAT 3/21 @ Ms Bea's (1104 East 6th St @ Medina St)
5pm- 12am


11- WAVVES

10:30- CRYSTAL STILTS

10- WOODS

9:30- EAT SKULL

9- THEE OH SEES

8:30- BLANK DOGS

8- PSYCHEDELIC HORSESHIT

7:30- CAUSE CO MOTION

7- KURT VILE

6:30- CHRISTMAS ISLAND

6- THE FRESH AND ONLYS

5:30- GANGLIANS

5- REAL ESTATE

SATURDAY NIGHT PARTY:
w/ Mayyors, Oh Sees + more
Eat Skull plays at 12:30am

1118 linden, austin, Texas 78701 - free