AFS v. 152 didn't happen this week because I went on an impromptu vacation to Portland and Seattle on the long weekend. On Saturday night, Fuzzbox Flynn and I saw
Coconut Coolouts
play at the wedding of a couple crazy (and crazy-in-love) friends, Kimberly and Brian, and it was truly the most fun I've ever had at a wedding. On Sunday night, we made it to a PDX house-show just in time to catch
Leslie Keffer
administer a self-massage via waves of drone (I saw a little drool beginning to break over her lip), and a nice set by
Unicorn Hard-on
. Thanks to Calamity Janie for subbing AFS this week. My bones were too tired after the ten-hour drive.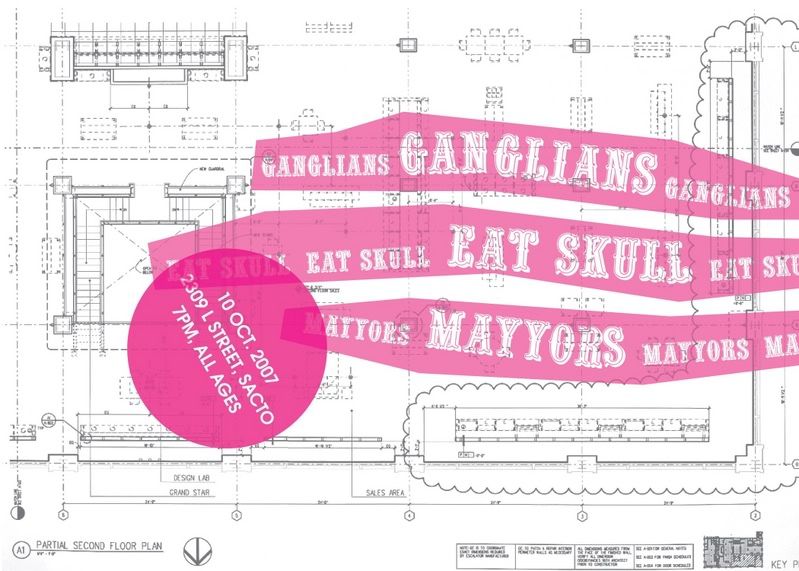 EAT SKULL
has been a favorite here on AFS since I received their first demo back in May, but I haven't ingrained his into your brain already, they are the ex-
Hospitals
/
Gang Wizard
/etc. band with a jangle-pop heart soaked in scuzz. There's a similarity in spirit to
Times New Viking
, I think (that could also be because Rob from Eat Skull was in
Hole Class
with Beth from TNV). Fistpumping singalongs, like an amped-up, gnarly version of
The Clean
or something. You should've already got the first 7"...Too late? Not if you see this band on tour. And not if Davis and Sacto don't wipe the merch table clean first. I think we might do it. That record's pretty good, but wait 'til you hear the 2nd one on Skulltones. "Dead Families" is a song of the year candidate.
http://www.myspace.com/eatskull
Tues 10/9 in Davis
on Freeform KDVS, live in Studio A
stream it live: http://www.kdvs.org/ btw 8-10 p.m.
Wed 10/10 in Sacto
@ 2309 L Street
house party w/ MAYYORS (ex-FM Knives/Karate Party/Sexy Prison/Sores/etc.)
Thurs 10/11 in SF
@ Hemlock Tavern
w/ Scout Niblett
Fri 10/12 in Oakland
@ 21 GRAND
w/ Greg Ashley & the Impediments
Sat 10/13 in L.A.
@ The Scene
w/ the Lamps and Sic Alps
Eat Skull has special merch for the tour, including a cassette tape and t-shirt. I've heard the tape which has four exclusive songs which are definitely sweet and very vinyl-worthy. As a bonus, the October 1981 demo cassette of Reno's all-girl HC band
The Wrecks
is included on the B-side with a xerox of the cover photo, songlist, and liner info. You may have heard The Wrecks screech out "I Like to Shoplift" on the legendary
Not So Quiet on the Western Front
2xLP. One other song ("Punk Is an Attitude") was comped by Grand Theft Audio onto the
High Road to Obscurity
CD about ten years ago. Now you can hear these and all the other songs by this amazing proto-riot grrl band...10 years before
Bikini Kill
, and arguably as good or better. 95% of riot grrl records don't seem to stand up well a decade later, but had this record been released in that era, it would have become iconic, and we would remember it as a shining example of the movement's music. Do not pass this tape up!
The Eat Skull tape cover is also the same as the t-shirt...an outstanding blend of styles between metalhead math-class dropout doodle and prison tattoo art.