To DOWNLOAD this program,
CLICK HERE
(archived for 10 weeks).
To STREAM this show before August 30,
GO HERE
DEATH SIDE
// Stop It!/Overcome Yourself // All Is Here Now 7" //
HG Fact
1994
TOTALITÄR
// Multinationella Mördare // Multinationella Mördare 7" // Crust 1987
KANSANTURVAMUSIIKKIKOMISSIO (KTMK)
// Turvamusiikkia // 666 // Barabbas 1985
KANSANTURVAMUSIIKKIKOMISSIO // Luontoon
MONOSOURCIL
// Hauts Couteaux et Manteaux de Fourrure // one-sided LP //
Gaffer
/
Steak au Zoo
/
Down Boy
*new
MUTATORS
// Glass // Paper Words 7" //
The Broadway to Boundary
*new
ART THIEVES
// Mona Lisa // rough demos CDR // no label *forthcoming on
Hozac
after final mix
GOD'S GIFT
// People // These Days 7" // Newmarket 1979
CHURCH POLICE // Gilligan's Wings // Gilligan's Wings //
Skulltones
*new (orig 1982)
SNAKE APARTMENT
// Pigs Is Pigs // Paint the Walls //
Parts Unknown
*new
ARKY // Yes No More // v/a: Hey! Hey! Sauerkraut Balls! CDR //
Teen Action
*new
LEADERS
// Rub You Wrong // Synthesizer Sketchez & 4-Track Demos CDR // no label *new
MUDBOY
// Whirlpool Window // Hungry Ghosts!: These Songs Are Doors //
Not Not Fun
*new
BROTHER JT
// Get on With It // Third Ear Candy //
Birdman
*new
BROTHER JT // I Am the Blob
ANDREW DOUGLAS ROTHBARD
// Indigo // Abandoned Meander //
Peaking Mandala
*new
PLANKTON WAT
// Visions // Other Worlds CDR // Solar Commune *new
FURSAXA
// Seven Stones // Maidenstone 7" //
Mt. St. Mtn.
*new
MAMMAL
// Drifter in the City // Lonesome Drifter //
Animal Disguise
*new
SPARKLE GIRL
// Hexis // split 7" w/ Slicing Grandpa //
Soccer Mom Ebonics
*new
PARALLEL PARAMETERS
// Sub-Tract // Look a Baby Wolf CDR // Teen Action *new
WOODEN SHJIPS
// part two // Sol '07 7" //
Sick Thirst
/
Holy Mountain
*new
YVES/SON/ACE
// Liars // No Taboos CDR // no label *new
SCHNEIDER TM UND LUSTFAUST
// Sweet Divorcee // The Girl Who Cried... 7" //
Mirror World Music
*forthcoming
KAYAK
// Reason for It All // See See the Sun // Harvest 1973
TWIN
// The Tower [or: War] // split 12" EP/3" CD w/ Mikaela's Fiend //
S.A.F.
*new
MUSIC MACHINE
// The Eagle Never Hunts the Fly // The Ultimate Turn On //
Big Beat
*new (orig 1967)
SYZ
// Complicated // Complicated 7" // HoZac *new
BPEOPLE // Can Can´t // self-titled LP // Faulty 1981
DEADBEATS // Kill the Hippies // Kill the Hippies 7" //
Dangerhouse
1978
BLACK RANDY & THE METROSQUAD
// San Francisco // Pass the Dust, I Think I'm Bowie // Dangerhouse 1979
R.I.P.,
Chelsea
of
Death Side
,
Paintbox
, and other bands. Passed away on August 17, 2007. He was truly a guitar-great of hardcore, alongside titans like
Dr. Know
and
Pig Champion
, and if you don't believe that, then watch this...
In the 90s, my radio shows usually focused pretty squarely on hardcore punk, and the playlists often revealed my penchant for the Japanese and Scandinavian bands. I pretty much had a subscription to Vacuum Mailorder, having bought at least one copy of every new title that Vacuum picked up from about 1996-1999, and I'd often wipe the Six Weeks table fulla Scandi-crust, Japcore, and South American HC clean at Gilman shows. Many a time, I'd go to Gilman in spite of the bands specifically because I was fiending for those records. It was an exciting time in hardcore, I thought. The powerviolence era was beginning to run its course (yielding to gnarlier sounds like
Dystopia
,
Bastard Noise
, later
Suppression
, and
Gasp
), the death-rale of emocore was loogeying all over (giving us strange new musical concepts by bands like
Get Hustle
,
The Locust
, and locally in Sacto, the
Yah Mos
and
Popesmashers
(both bands were the primary precursors to
!!!
), and the international network of noisecore tape-traders was fractioning into a substratum of porn-grind degenerates and others with more original trajectories, resulting music by the likes of
Sloth
,
Gore Beyond Necropsy
, and
Damage Digital
. Just as all of these HC subgenres were sacked by revolutions, donning masks and devouring atavistic elements of no-wave, embracing free jazz, noise, and other improvised music, there was also a rather credible revival of thrash that paid tribue to the heyday of the early to mid 1980s, led by bands like
DS-13
,
Exclaim
,
Tear It Up
, etc.
Through it all,
Totalitär
raged relentlessly just as they had since their beginnings in 1985, and they are still the crème de la crustpunk to this very day. Had their scorchin'
Vi Är Eliten
been released earlier in the year, I'd have surely included it in my top full-lengths of 2006. Here, we hear the Swedish masters from their first 7". Somehow, I never knew until a few months ago that Totalitär shared members with the
Brainbombs
.
Back when my pre-AFS program was rather more HC-obsessive, the name of the show--"Säätekin Suklääkuoretettua Paskaa"--was a Finnish lyric, an indictment of pop radio by the incredible
Radiopuhelimet
. I'd learned of the band when I was a regular listener of
Karl Ikola
's radio shows on KDVS in the early 90s. They started in 1986 as something of a
Beefheart
-damaged hardcore band that rose from the ashes of the short-lived
KTMK
, or
Kansanturvamusiikkikomissio
. On their only LP--available from the band for free download
HERE
--KTMK were like kindred spirits with Aussie groups from the
Aberrant
label such as
Venom P. Stinger
,
Feedtime
, etc.
Today it's not very common for me to feature new HC bands on AFS, but I've just found the new one-sided LP by France's
Monosourcil
, a band related to another one of today's best and most original HC bands,
Death to Pigs
. Monosourcil still attacks with a lotta might, but their guitar leads are prone to splintering into spidery angularisms and treblephonic scrapes. The record comes with a CDR of the same songs inside.
From Vancouver, Canada, the
Mutators
have just released their second 7", and their first with new singer Lief. Having witnessed the band on tour opening for the
A Frames
and
Sexy Prison
at the Charred Doghouse here in Davis, I was amazed at how aggressive and imperious her vocals were. Surely, she's the most combative female voice I've heard since...I dunno, maybe
Lydia Lunch
or
Diamanda Galas
? Lief could be almost as quarrelsome, but without the divaesque posturing. The sparse and stark attack of drummer Justin and guitarist Brody have ratcheted up the ferocity to match the glasseating vokills, and now they're doubly destructive since last year's debut vinyl. This lineup should re-record the "My War" cover.
The latest band to try to out-Flipper
Flipper
is a group of presumed Chicagoans repping Uganda on MySpace, the
Art Thieves
. These extra-pugnacious and scuzz-caked sounds bear the bloody flavor of the
Brainbombs
, too, but these villians are still clever enough to add to the mythology of DaVinci's
magnum opus
. This is played off a CDR of rough mixes of material intended for a future 7" release on the so-far infallible
HoZac
label. HoZac records sell out in the blink of an eye during the brief pre-ordering period, so start patrolling the HoZac label blog everyday until an announcement is made. As for out-Flippering Flipper...No band can really out-Flipper Flipper, okay? Or out-Brainbomb the Brainbombs. But this rates as highly as any band that has tried since
Billy Bao
. Suffice to say that the Art Thieves rule.
Last time I played this great, brooding
God's Gift
song, I talked over the whole damn thing, so let's hear it again with less talking.
Speaking of bands that tried to out-Flipper Flipper, the first to make a serious attempt might've been the
Church Police
, who rose briefly in the early 1980s from perhaps the most reviled of Bay Area edge cities, Concord, California. Most of the few people who know the band are only familiar with their contribution to the definitive Bay Area hardcore document, the
Not So Quiet on the Western Front
compilation. "The Oven Is My Friend" (later covered by
Sebadoh
on their
Siltbreeze
7") was one of the two great weird songs to grace that LP (the other was Flipper's "Sacrifice"). Even fewer people noticed in the mid 1990s that the enigmatic
Stomach Ache Records
released a 7" (cooperatively with
RRRecords
) of rambling freer-form songs by the Church Police with minimal sleeve info. I stupidly sold that record away about six years ago, but "Robots" was a song so memorable that I can replay it in my mind whenever I think about it, and "Killing Myself to Live" might be the best song title ever.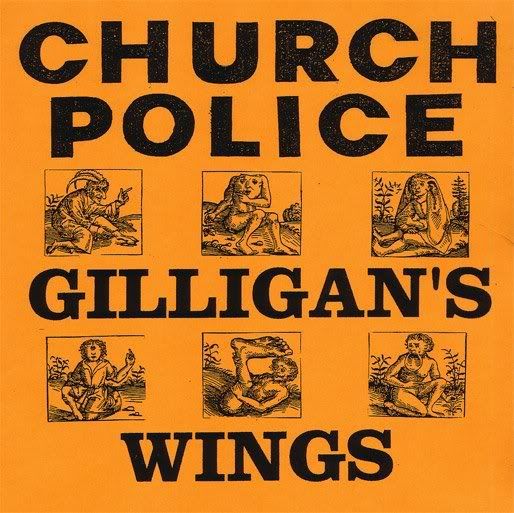 I doubted that any other Church Police songs existed, so I was so pleased when Ry of
Snake Apartment
--who runs the very tasteful
Skulltones
imprint--delivered a copy of
Gilligan's Wings
in person to KDVS. These recordings from 1982 are of plenty good quality, and the songs are much more coherent than the rather rambly mysterious 7". Rumor has it that this is an appetizer for another label's full-course retrospective release.
When Snake Apartment were interviewed here on the AFS that was lost to archive glitches, I asked them what their reaction was to a lazy internet diss, wherein a message board maven said: "They're another one of those
ClockJeans
bands."
Another?
Are there that many bands like
Clockcleaner
and
Pissed Jeans
that they constitute an "ilk"? The band sorta just smiled wryly and let Ry answer: "Those are good bands, but I don't know what they mean by that. We like to think of ourselves as something more like Church Police and weird stuff like that. Or maybe we are just like
Tad
." (I've been thinking since then that it's about time we revisited
Salt Lick
or
God's Balls
here.) Just check the burrowing basslines and vocal reverb-drench, which are both hallmarks of the excellent
Paint the Walls
. That is actually a lot like Church Police!
Next up, here's a defunct band called
Arky
with personnel ties to the amazing
Sword Heaven
. Two Arky songs are featured on
Hey! Hey! Sauerkraut Balls!
, a spraypainted CDR compilation of Columbus (OH) noise bands ranging from splattery scattershot noiserock thuggery such as this to spastic foilchewing mayhem and dog-whistle ambience. Arky were more songlike than, say,
Dynasty
or
Deep Jew
, but kinda in the same realm. The CDR comes in a screened pocket of sewn-together velour, as pictured above.
Now, enjoy another blast of primo synthsleaze from the
Leaders
. It's all in bad taste to rub you the wrong way. Like that time at a basement show when Martin pissed in an empty bottle of Blackthorn cider and broke it against the wall. Except that time, I was the adult in charge of the party, so I forgot to laugh, especially as I stayed late to clean up the mess with my bare hands because no upstairs tenants could be found to unlock the closet which had a mop inside. Here, the unapologetic Leaders have the same flagrant rudeness. And while it's taken me this long to laugh about picking up those piss-soaked shards with my fingers, the sneery snideness of the Leaders and their buzzsaw guitar's shattered melody have me feeling immediately tickled. You'd be really smart to tell us that your label has already contacted them about putting this on vinyl.