Once again, I was so busy at the office that I was forced to come late to my own radio show. But again DJ Fuzzbox Flynn filled in for the first hour until 1:00 when I took over. Flynn's selections are in
italics
. That's the last time I'll be late on account of work until the thick of next year's legislative season. Also, here's some news…"Art for Spastics" is moving from Monday nights at 12 midnight to 2:00 a.m. to the much saner hour of 10:00 p.m. 'til midnight on Wednesdays. That goes into effect next week, so if you listen live at 90.3 FM in the Davis and Sacramento area (or if you stream the show live at
http://www.kdvs.org/
), remember!
Download AFS v. 137 (w/in next 10 weeks)
...or stream it (by June 26, 2007).
THE OUTSIDERS // Freeway // Vital Years // Gift of Life 1993
THE WIPERS // Now is the Time // Over the Edge // Braineater 1983
THE WIPERS // Youth of America // Youth of America // Park Avenue 1981
TERMINAL CHEESECAKE // Pony Boy // Angels in Pigtails // Pathological 1990
GOD'S GIFT // Soldiers // self-titled 12" EP // New Hormones 1981
THE LEWD // Kill Yourself // v/a: Killed By Death #3 // Redrum 1978
TAPEWORM // Break My Face // v/a: Killed By Death #9 // Redrum 1978
FLIRT // Degenerator // v/a: Killed by Death # F.U.2 // Redrum 1978
TAMPAX // UFO Dictator // v/a: Killed By Death #7 // Redrum 1978
MENTALLY ILL // Tumor Boy // Gacy's Place: the Undiscovered Corpses // Alternative Tentacles 1979
THE SCREAMERS // Beat Goes On // In A Better World 2Xcd // Extravertigo/Xeroid 1977


NERVOUS GENDER // Monsters // Music From Hell split 12" w/ Beelzebub Youth // Subterranean 1981
ZOLAR X // Science // Timeless // Alternative Tentacles 1979
ALU // Allzeit Bereit // Autismenschen // C.I.P. 2006 (orig 1980-1984)
INSTANT AUTOMATONS // John´s Vacuum Cleaner // Another Wasted Sunday Afternoon // Hyped2Death
LESTER & THE BREW // Bad Day in the City/Eyesight Bad // v/a: Messthetics #103: D.I.Y. 77 - 81, Midlands I // Hyped2Death *new
FAXED HEAD
// Show Pride in Coalinga // 1st 7" // no label // 1993
DOPPLEGANGER SQUID // Hellbender // only 7" // Waggletone 1994
TYVEK
// untitled // split 7" w/ Cygnus // self-released *new
EL JESUS DE MAGICO
// LGNO // Funeral Home Sessions 7" //
Columbus Discount
*new
LITTLE CLAW
// Ice Age // split 7" w/ Michael Yonkers //
X! Records
*new
THE NEW FLESH
// Dog // Dog b/w Memory Scrap 7" //
Terra Firma
/
Human Conduct
*new
SILVER DAGGERS
// Life Freedom-Style in All Its Pride & Glory // split 7" w/ Shearing Pinx //
Arbor
*new
CRAPPY NIGHTMAREVILLE
// Black Beam Dub // Neutron Dracula 7" // Black Velvet Fuckere *new
ETTRICK
// Raven Harvest // Feeders of Ravens //
Not Not Fun
*new
DEEP JEW // Night Eyes 2 // Bored Fortress Singles Club split 7" w/ Mindflayer // Not Not Fun *new
AUFGEHOBEN
// Axiologue // picdisc 7" //
White Denim
*new
KITTY MIDWIFE // Venus in Spookyland // DBA Tape Club split c20 w/ Child Pornography // Deathbomb Arc *new
VANKMEN
// Don´t Want to Sleep // v /a: The Fruit Will Rot 3 (nine 3" CDRs!) //
Deathbomb Arc
*new
REALICIDE
// trk 5 // v /a: The Fruit Will Rot 3
FACTUMS
// Organ of Self Esteem // Tour CDR // no label 2007
FACTUMS // Anemone
BLANK DOGS
// Housefly // Yellow Mice Sleep 7" //
HoZac
*new
LES PROVISOIRES
// Quiet Room // Quiet Room EP // Monsieur Vinyl 1982
I thought I knew all there was to know about
God's Gift
until this week thanks to the sleuthwork of Jack from
Volt
and Pollymaggoo Records in France. Interest has been brewing recently about that. I learned of their 1980 four-song 12" EP and 1982 7" by accident thumbing through records in the cavernous KDVS library, and I was riveted by their relentless deadpan bleating and extreme Englishness. I've recommended the band over the years to fans of the most skeletal moments of early
Fall
records and drier material by
Country Teasers
. Last week, we went searching for connections to the band, and although nothing's turned up yet, we have learned that there are others who remember them fondly.
We just learned that they had a debut 7" called
These Days
which pre-dates the 12", and Jack said that the sax on the B-side "as frightening as the
Brainbombs
' Dan Raberg's wailing trumpet." We've also learned that they had a full-length cassette album (
Folie Á Quatre
) and appeared on a compilation double-cassette alongside such names as
Bauhaus
,
Death in June
,
Nico
, and
Test Department
. We'll be getting a chance to hear songs from the debut and the cassette soon. But even if one Belgian writer does not mention God's Gift in a potential forthcoming New Hormones label feature for the
Record Collector
, interest in the band should continue to grow. Chuck Warner of Hyped2Death has pegged them as a must-find band for his awesome archival label's
Messthetics
series, and with any luck, they might appear on
Messthetics #104
or
#105
, which Chuck promises to include "substantially odder/more primitive" material than what we've enjoyed on 100-103. I can hardly wait to hear those! Certainly the oddest track on the brand-new
Messthetics #103
compilation is this sorta medley of negatively-charged extreme Englishness by
Lester & the Brew
, so as soon as I could get to the KDVS studios from my busy office (yes, I was working 'til midnight again!), I had to drop this on you.
More mainstream media discovery of the
Neil Hamburger
phenomenon and his increasingly Koppel-sounding (and not-as-funny) soundbytes on basic cable interview shows has us longtime fans pining for his comedy gold of old. It seems that the question still persists as to whether Neil might have been a masked member of
Faxed Head
, the enigmatic band whose first release was this 7" record with its sleeve embossed with a map of central California starring the much-maligned stinkhole of a town called Coalinga, situated at the halfway point of the boring I-5 drive from Sacto to Los Angeles. It's best known by anyone who's passed through the area as the place with a giant Harris Ranch stockyard fulla cows standing shoulder-to-shoulder in their own shit with nary a blade of munchable grass in sight. Someone came up with the clever name of "Cowschvitz" to describe the agony of this landmark which is most irritatingly at least twice the nose-sore as it is an eye-sore.
The town is actually a few miles west of the freeway and considerably less rife with the smell of manure and slaughter, but to outsiders, the stench is often the
only
thing that Coalinga is known for. But to fans of Faxed Head, it's the cradle of the band's bizarre and hilarious mythology. The 7" included liner notes on very realistic Coalinga Chamber of Commerce letterhead which described a tale of teenaged fast-food employees whose failed suicide pact left each youngster horribly misfigured. The record was supposedly the result of these wretched boys winning a Chamber-sponsored "battle of the bands" event where the top prize was free studio time with talented recording professionals in San Francisco. That the sounds of this record were so awful was because the panel of judges could not bring themselves to vote against a band of severely disabled youth. The band persisted to violate rules of good taste with the same schtick for almost a decade, releasing a few full-length albums, but to a dedicated core of fans, this schtick never got old. I still laugh when I follow along with the lyric sheets today! The tug-of-war between their Coalinga civic pride and their extreme shame of their hometown is as exciting a stalemate to dissect as there ever was, and there's plenty of seemingly in-jokes about co-workers and schoolmates in Coalinga to make you feel like a town insider.
I saw the band once at Old Ironsides in Sacramento, and now I realize how lucky I was to see them. It's probably the funniest show I've ever seen. As members would simulate epileptic seizures, naughtily-attired nurses would administer serum to keep the show going. The band rarely ever played live at home (presumably San Francisco, as the band had always been rumored to include members of the
Zip Code Rapists
and/or
Mr. Bungle
) or away. This early Faxed Head including the schizo blackened march tune--"The Colors of Coalinga"--had a claptrap junkiness to it which was quite a bit dumbed down from either possible parent-band, and it almost made the myth in those liner notes seem almost believable. And it's not as if Coalinga isn't already plausible as the scene of a teen suicide pact. The place is really that depressing!
By its own virtuous claptrap junkiness, the first and only 7" of
Doppleganger Squid
[
sic
] fits in perfectly at this time. Little is known about this band, especially now that the only non-AFS-related Google-search result that mentioned the band has disappeared from the internet. But I think that they were from a part of North Carolina that was at least semi-rural. When I first heard this in 1994 on Todd Urick's "Hometown Atrocities" show, as the cruddy drums began bashing, I remember thinking that I was hearing some lost late-70's tapes of
Chrome
. I always wanted my own drumkit to sound like that. Except for certain inept 80's teen HC/thrash and maybe the first
Cure
album, I don't think any band played so confidently on ultra-cheap equipment, as if to say very brazenly that "We spent $199 on a new drumkit, and we think it sounds awesome!" But even as fried and blown-out as the vocals and guitars sound, Doppleganger Squid soon broke away from the Chrome mold and took their scruffy psych-punk flirtatiously toward the ubiquitous mid-90's pop-punk. But hold the cheese! The Squid were more than tasteful enough to do so whether they were creating snappy, scrappy foot-tap'n melodies or noodling into weirdpunk territory. This is a great record that sadly never got noticed, so raid the dollar bins of North Carolina if you can!
Come to think of it, Doppleganger Squid's probably been on my mind subconsciously since last month when
Tyvek
seared their way into my forever memory with their unique blend of infectious melody and the almost
Tampax
ian weird. The Squid's one of the few that bear any sorta analogy to the sounds of Tyvek on tour with the added damage of crazed wah-wizard
Dr. Teet
. A few people around here have been talking about how seeing Tyvek makes them wanna start a new band. Get to it! Footage from their "Franco-American Friendship Tour" with
Cheveu
is just starting to hit YouTube, and this footage from Tyvek's performance at 21 Grand in Oakland doesn't approach the greatness of the many highpoints I saw--they were fraught with guitar amp frustration, and underpowered P.A., and lab-like room dynamics--but this is still probably better than any show you've seen recently...
Columbus, Ohio, is becoming the center of my rock universe again in 2007.
Thomas Jefferson Slave Apartments
and
Gaunt
aren't back together or anything, but on the heels of last year's ruling
Psychedelic Horseshit
7",
Times New Viking
's second Siltbreeze album earlier this year reaffirmed that they are one of today's most exciting bands; and now Columbus Discount Records is about to drop three awesome new 7" EPs next week, including this one by a group of previous unknowns called
El Jesus de Magico
which makes its second straight appearance. Last week, we also heard the new
Necropolis
and
Night of Pleasure
, too. All three records are overdriven fuzzblasts steeped in the righteous traditions of all the great Columbus bands since the days when the
Electric Eels
were exiled there from Cleveland, including every
Jim Shepard
,
Mike Rep
, and
Ron House
vehicle. They all get my highest recommendations, but El Jesus de Magico is the nastiest and most laid-back of the three new Columbus Discount EP's. It's perfect for this weather. The only thing you can do when it's 100°F with a broken A/C is to lay on the floor and blast this record.
Their awesome "Fast Metabolism" tour CDR (which I believe is still gonna be pressed up on vinyl for fiends of great taste) is downloadable here...
http://www.yottamusic.com/albums/Tyvek/FAST-Metabolism/
More pump-priming for the upcoming west coast tour of
Little Claw
with
Times New Viking
...Here's an epic scuzz-pummeller by Little Claw which will beat you into submission before carrying your pulpy head off on fuzzy cloud of feedback as Kilynn coos a little lullabye. The rendering of "Ice Age" is raw and nasty, but not loathsome in the least. Another great song by these faves!
The A-side of the brand-new
New Flesh
single is a writhing punisher more like the the songs on their second album
Vessel
than the debut
Parasite
, but it is also rawer and nastier production-wise...nearly as much as the one-sided 7" from last summer with the vocals of
Robert Inhuman
of
Realicide
, so that should suit some of you better than ever, especially if you wanted to believe my
Brainbombs
comparison that I dropped on these guys back in 2005. Next week, we're gonna hear some real pain from
Legless
, a New Flesh-related noise project with a new 3" CDR on the same label.
I realize now that this
Silver Daggers
cut was spinning too fast at 45 RPM, but it's probably not of much consequence as it comes off more like incidental instro music, perfect for DJs to talk over. It's preceded by a live recording at The Smell which I'm sure we'll hear soon. Still, this split 7" of two of my utmost favorite current bands (can't wait to see the
Shearing Pinx
here in Sacto on Saturday!) is absolutely worth tracking down, as is their
New High and Ord
LP and CD on Load Records, which is surely a sharp stunner.
Next, we get really free on this B-side of the new single from Louisville, Kentucky's
Crappy Nightmareville
, which has an ensemble cast of musicians including at least one name I recognize from a
Sapat
record. The A-side is not so much for my tastes, as it's a circus-like waltzy composed number that I didn't finish before I flipped it. But the B-side is some wonderfully ominous brooding. I am gonna go back to side A...it's just that I was late getting here from work, remember? Still, as a group of what I assume are basically rock musicians with long hair doing something kinda like free jazz, this rates way, way up there just on the strength of "Black Beam Dub" alone.
Another band I'm excited to see at the
Shearing Pinx
show at Fools Foundation on Saturday, June 30, is
Ettrick
, San Francisco's duo of Jacob Heule and Jay Korber, two amazing sorcerers of free/blackened/death/jazz. Not Not Fun has just issued their debut vinyl LP, and it is a scorcher, and unlike their other recent CDR releases featuring mostly protracted epic-length live-recorded improvs, this album of eight pieces is a great way for less patient listeners to get acquainted with Ettrick in bite-size doses that are immediately impactful. "Raven Harvest" is the most definitive Ettrick moment on this LP, as it might be the only song wherein each member alternately dons drummer and sax assassin hats.
Deep Jew
have never sounded as song-like as in the first minute or so of this song from their contribution to the
Bored Fortress
split 7" club series. Those actual structured chord progressions are but the inviting candy shell that cracks off to reveal a violent center that detonates like a bomb in your face. Consult your maxillofacial reconstructive surgical specialist after playing with this one! Year two of
Bored Fortress
has been gnarly! Not a dud side yet!
Here's a picture-disc 7" single of very formidable (certainly albumworthy) outtakes by the UK's
Aufgehoben
from the sessions that resulted in their most recent on Holy Mountain. Their use of guitar and percussive-sounding electronics make bring to mind a freer Sightings. Where I've not had the stamina to make it through their four albums, this appetizer serving does have me salivating. I think I'm gonna go back in.
Kitty Midwife
is Shoosha from Portland who makes sample-rich jams of corruptive fuckery with the playfulness of a kitten unraveling a yarnball. We've recently heard a lot of her on AFS, including her candlewax-dripped collab 3" with former Sacto sweetheart
Lala
, her
Animal Writes
project with Dan from
Shitty Vibe Smasher
and
James Squeaky
a.k.a.
Argumentix
, and her solo debut under her original name
Squid Baby
. This is for fans of never-static noise, and it's rather unique for its brightness of attitude and hyper-texturalism. This belongs on a vinyl LP, I think. I excerpted it here because I was running low on time, but the whole thing is immensely listenable from start to finish for something so anti-musical.
Vankmen
is Sacto gabbernoise like I never knew existed here until I finally heard on this, the third compilation in the
Fruit Will Rot
series which unleashes
NINE THREE-INCH CDR's
in each edition. We also hear the excruciating
Realicide
from this ambitious set which also features
Mincemeat or Tenspeed
,
Beach Balls
,
Unicorn Hard-on
,
The Toilet
,
Eustachian
,
Nero's Day at Disneyland
, and
Tik///Tik
. This is certainly the most punishment in one package that Deathbomb Arc has ever meted out. Taking it all in at once is like eating a giant bag of individually wrapped candies, but not like the ones they sell at Safeway...more like the ones they sell at CostCo. Remember back in the 80's when every October, you'd hear the TV news warning parents of Halloween candies spiked with drugs? This compilation is like that CostCo bag of candies, spiked with drugs. The fruit will rot 'cos you'll eat nothing but candy until your heart explodes. Which is to say that this is great! Would you believe that these particular track selections are two of the least relentless songs in the entire set? Be warned!
Next up is the
Factums
like you've never heard them before on AFS. I've played this Seattle band on several shows in the past two years, but I've always favored their songs over their experimental interludes. But on this CDR, it's all interludes, and they've never pulled the free-ramble jam(un)rock off better than this. Indeed, the "rock" is almost completely outta the equation here. Some tracks are more organic sounding, while others recall minimal synth oddities 35-45 years ago. You might hafta ask the band at their MySpace how you can get a copy of this...I dunno. It doesn't even have a name, but you can tell them that it's in a white envelope with an insect xeroxed onto it, and it has 12 songs on it. You can also wait for the band to release some records. Yes, it's finally gonna happen. Siltbreeze will do it stateside, and Pollymaggoo in France. That's two different records.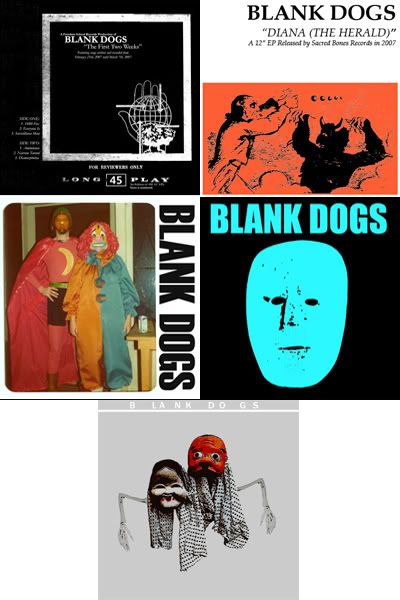 At last, I get to gush about my favorite brand-new band in the world, the
Blank Dogs
, who I understand is actually just a one-man project of Mike from the
DC Snipers
. This is from the 7" on HoZac which you should hurry to get before quantities dry up and legend of Mike's ingenuity spreads. Dig into AFS v. 136 and you'll hear another from this 7" plus another awesome song from
The First Two Weeks
12" EP, which has six songs that were literally conceptualized, perfected, and recorded within 14 days of Mike getting the idea that he should do this side-project thing. That sounds like it could be bad...a record made like that, right? But I guess when you've got that great a handle on how to make a catchy pop melody and a rare sensibility that allows you to twist it into some sorta otherworldly psychedelic new wave without making it discernable as a great pop song. You hear some
Twinkeyz
here, some
Second Layer
there, and maybe some of the more songlike songs of
Throbbing Gristle
, but on each record, the Blank Dogs sacrifice none of their own identity.
Mike also apparently has this side-side-project thing called Teeth, and the one song so far sounds very promising, too...
http://www.myspace.com/teethareforeating
Finally, here's another old nugget of French punk/new wave from the early 80's that was seldom heard in areas of the world where people pigheadedly wanna hear things only in English.
Les Provisoires
made an LP in the mid-80's that I wasn't too hot about...kinda cool, but a little too produced, and a little too smooth. Little did I know that they made this early EP a couple years earlier which was as intractable, raw, and brutish a postpunk record as you will hear. I never suspected that these guys had this in them. Thank you, Jack, for bringing this to my attention.
Remember that you won't be seeing my playlist for AFS v. 138 next week until Thursday morning because my showtime is moving.
Thanks for listening!