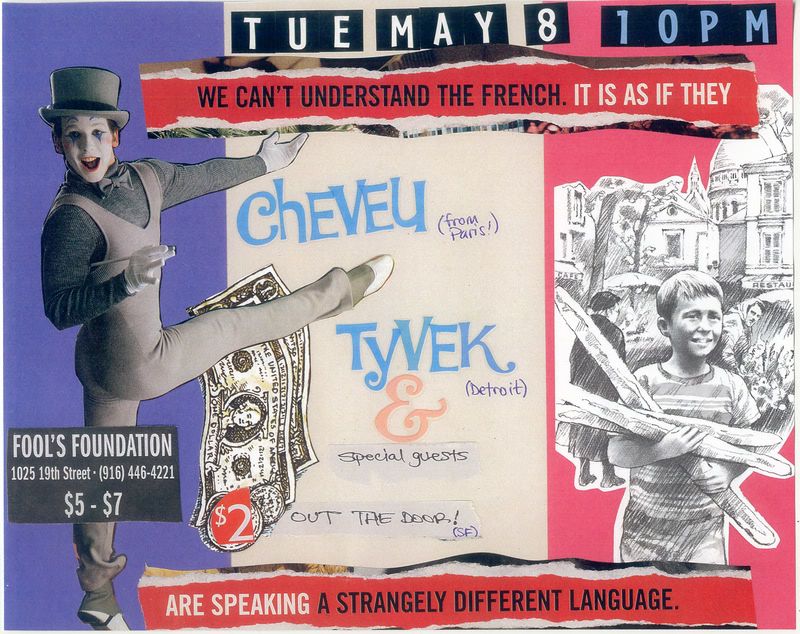 The "Franco-American Friendship Tour" touches down on the West Coast today through May 20
, and you will wanna be ready. If you haven't learned to trust me....DUDE, c'mon!!! I'm leading the horse 99% to water here. Just click on these links and enjoy your next favorite bands.
Cheveu
and
Tyvek
were two of my top three
favorite musical discoveries of 2006
, so I decided to wear the DIY Superfan Free Booking Agent and Press Deluge Services hat for them, and now they will be touring from Mexico to Canada.
They will charm you into pulling off dancemoves you never knew you could do...
Fri May 4 Los Angeles, CA @ Pehrspace, 325 Glendale Blvd, w/ Abe Vigoda & Anchors for Architects $5 all-ages
Sat May 5 San Diego, CA @ Tower Bar, 4757 University Ave, w/ The Atoms 21+
Sun May 6 (open)
Mon May 7 Mexicali, Mexico @ details forthcoming
Tue May 8 Sacramento, CA @ Fools Foundation, 19th & K Streets, w/ TBA $5 members/$7 non, all-ages
Wed May 9 Chico, CA? w/ Nothing People?
Thurs May 10 Portland, OR @ Slabtown 1033 NW 16th Ave w/ Meercaz & Reptilian Civilian 21+
Sat May 11 Vancouver, BC, Canada @ Pub 340, 340 Cambie St. w/ Arthrose Aujourd'hui
Sat May 12 Seattle, WA @ Funhouse 206 5th Ave N. w/ A Frames, Nice Smile 21+
Sun May 13 Olympia, WA @ Le Voyeur w/ Charming Snakes + 1 TBA
Mon May 14 Seattle, WA @ SS Marie Antoinette, 1235 Westlake, w/ Talbot Tagora & Coconut Coolouts, all-ages
Tue May 15 day off
Wed May 16 Portland, OR @ Artistery 4315 SE Division St. w/ Eat Skull (members of Hospitals), all-ages
Thurs May 17 Oakland, CA @ 21 Grand, 416 25th St., w/ Red Nurse & Pets, all-ages
Fri May 18 San Francisco, CA @ Hemlock Tavern, 1131 Polk St., w/ Nice Smile $7 21+
Sat May 19 Davis, CA @ DAM Haus, 503 E Street, w/ Nothing People & Nice Smile, 7:00 food/7:30 music $$DONATE$$ all-ages
Sun May 20 Los Angeles, CA @ The Echo, 1822 W Sunset Blvd, "Part Time Punks" night w/ Glass Candy, Under 21 $8/21+ free before 10:30 & $5 afterwards
Cheveu
--that's "hair" en Français--are a Paris band inspired by such diverse influences that they create a wholly other brand of music which is extremely difficult to classify, but has very wide appeal. The guitar is soaked in the raunch of garagepunk and occasionally dabbles in surf. Low-tech keyboards and drum machine recall the darkwave and electro sounds from the early 1980's. On their faster songs, the propulsive beats have the ornate snareshot patterns and hip hop-sourced double triplets of the drum 'n' bass/jungle arm of techno. The vocals trespass through African-American talk-blues and toasting traditions before hastening up to a nervous speed-rap in a husky and unmistakably French accent. Perhaps the most contemporary element employed by Cheveu is the vocal effects processing that is used famously by modern psychedelic groups such as Animal Collective and Gang Gang Dance; whereas these bands use vocal effects for enchanting and entrancing the listener with diffuse abstractions, Cheveu often use the Boss Line 6 pedal to push excitement into mania, much like the progressive trance genre of electronic music when its pioneers first turned melodies into unstable isotopes in liquid form. The fidelity, and attitude of Cheveu is still caked in scuzz and oozing sleaze, and so their fanbase to date has centered in certain circles of music that is still called punk rock, but the flavors of electronic music and even French pop music are still distinct.
Tyvek
are an absolutely endearing happy, scrappy funtime band whose debut 7" last year flipped minds with its authentic flavor of Messthetics-era British DIY circa 1978-1980 so much that it was such a surprise to learn that they are actually from today, and with songs begging to know "Can you drive a Honda like a can drive Honda (4x)?" and dissing on the Ford Escort, it was also surprising to learn that they are from Detroit. This is primo snappy upbeat punk with a jangle-pop heart.
Hear some songs and watch movies of these bands here
...
http://cheveunet.free.fr/
http://www.myspace.com/cheveu
http://www.myspace.com/tyvekmusic
http://www.myspace.com/cheveutyvek
see
:
Cheveu live @ Gonerfest III, Memphis '06
Cheveu live @ Le Klub, Paris, 03/06
Cheveu "Clara Venus" video
Cheveu "Dog" video
Tyvek in-store "Mary Ellen Claims"
Tyvek "Air Conditioner"
Tyvek "Honda" live w/Cheveu
Cheveu discography
...
"Dog" 7" on Ss recordS, 2006
v/a "Tête de Bébé" LP on Ss, 2006
"Clara Vénus" 7" on Royal/SDZ (Fr.), 2006
"My Answer Is..." 7" on Rob's House, brand-new!
Limited Tour split 7" w/ Tyvek on Ss, just in time!
Tyvek discography
...
"Mary Ellen Claims" b/w "Honda" 7" on X!, 2006
"Give It Up" 7" on What's Your Rupture, forthcoming
Limited Tour split 7"