Since some of you have emailed to complain that you can't find the comp (sorry, I shoulda explained better before); others say they wanna know more about who these bands are; here's the deal...
Say I care too much, but we really put a lot of ourselves into Freeform KDVS, the fulltime FM and online radio station that exists for and because of its listeners, who are very often the same-level priorities-backward music-freaks as you and you, and other people here at TB. Punk- and thug-run since 1963, we are probably the best terrestrial-based online listening destination for fans of the new music of extremely wide variety and deep obscurity. Not meaning to brag, but that's the way that it is.
As incentive for you to support us, we give you thank-you gifts or premiums that are worth the money you pledge. As extra incentive for fans of the "weirdpunk," I made this "Newbie Friendly" 78-minute, 24-track CDR compilation of mostly new and some old songs that are either exclusive or exceedingly rare, and that you might not otherwise hear any other way.
"Newbie Friendly" is free on top of any other premiums you select.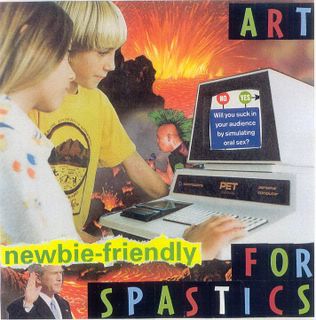 To view this gift, go to...
http://kdvs.ucdavis.edu/viewother.cfm
...then select "Freebies"...and you'll see it there.
To donate to KDVS online, and select "Newbie Friendly", go to...
http://kdvs.ucdavis.edu/secure/pledgeform.cfm
...fill out form, pledge $25 or more, choose this freebie, and then choose any other valuable dollar-for-dollar premium you like otherwise.
You can also call the fundraiser hotline toll-free: (877) 399-KDVS
or (530) 754-KDVS
THIS WILL BE AVAILABLE THROUGH SUNDAY NIGHT, April 22. (For $100, you can get 14 CDR comps handmade by DJs including many of our very best...It's worth it!)
(1)
Der Submarine Racers
"Cheap Date": Here's a made-to-order blast of blown-out sleaze that's exclusive to this collection. With their prospective label vetoing my proposal to include the outrageous "Space Burrito," the MySpace budget-rock rager of the year, I asked the band to provide me with any music that's not already slated for release on upcoming 7" vinyl. There was no such material, so the band offered to write and record a wholly new song. With gratitude, I replied that my timeline didn't allow for that, so they went right to work and emailed me this .wav file a day later!
(2)
Wax Museums
"Worm": These young and slovenly slobberers from Denton, Texas, play a preciously authentic brand of
Angry Samoans
and "Killed by Death" obsession as heard on their two 7-inchers so far. "Worm" is from the B-side of their 2006 debut EP, and this one will burrow its way into your brain like a devious little annelid.
(3)
Doppelganger Squid
"At War": In 1994, this North Carolina band made one delightfully scuzzy 7" on the obscure Waggletone label. All three songs are clever and great as examples of ultra-budget lo-fi weirdpunk that is made to sound good. Are my ears bad, or does these drums sound like early
Chrome
? A $200 pawn shop special, played in a style that is skeletal, yet nervously shuffling. Guitars are positively
Tapeworm
ian at times! Perhaps these guys were like a more metaphysically minded
Sockeye
or slightly psych-inflected
Kill the Hippies
.
(4)
Toxic Attitude
"War Crimes": I found this seven-song 7" record in a small quantity at Amoeba Records ten years ago, and I was immediately curious because of the campy hand-drawn cover of a mullet-dude guzzling a beer and the monkeylike print of the EP's title, "Stupid Teenage Music." The back cover had a xerox-degraded photo of the band with two of the members in their graduation dress, posing against the fence of the high school baseball field. The "fuck you" list included
Violent Apathy
and
CH. 3
. I just knew it had to be good, so I bought them all. What I found in the grooves was better than I expected...total last-brain-cell devastating puerile HC played at the edge of no control, but with a complete disregard for self-consciousness about zero musical talent and not-even-half-baked political rants. The best part is the ridiculous reverb drench effect that the singer uses to drive home certain choice lyrical passages. I'm guessing he controlled it with a foot-switch. When you hear this, you're gonna wonder why this hasn't already been made legendary on many mp3 blogs.
(5)
Red Asphalt
"Red Asphalt": Here's some highly dynamic synthpunk from a 1979 7" from a mysterious Bay Area band who also appeared on the "Live at Le Disque" 2xLP compilation. I know little else about them, but this sure sounds like the kinda proto-art/tweener-garagepunk that inspires such bands as
Functional Blackouts
, certain
Jay Reatard
vehicles, and the
A Frames
family tree.
(6)
Talbot Tagora
"Bent Boy Out": Here's the most promising sounds of young DIY Seattle featuring youngbloods who cut their teeth in bands like
Mikaela's Fiend
and
Last Slice of Butter
. The kinetic galloping pace and guitar angles of
Abe Vigoda
are evident here, but so are the raw mp3-maché and hooky melodics of
the Intelligence
, and while other songs from their self-produced "Volcano Girls" CDR album rock harder than this, "Bent Boy Out" sounds like it also delves into the best bands of the C-86 progeny.
(7)
Skarekrau Radio
"Kitty Swap": With their cult religion and mythology, SKR are at once kinda offputting freakishness and enrapturing, and sometimes even a great party band, such as on this song from last year's split LP with
Jerusalem & the Starbaskets
on Apop Records. If you'll pardon more of my lazy this-band-meets-that-band comparos, lemme just say that the obvious equation I hear is
Bunny Brains
plus
Smegma
.
(8)
...Worms
"Woodfire (Autobahn)": The ellipsis is indeed part of the name of this Portland-via-Pullman quartet of self-described "ADD-riddled grizzled old men" (they're about the same age as me, I'm pretty sure). This song is from their four-song 7" that came out on Marriage Records a couple years back.
Crispy Ambulance
had a lyric that went "Caught halfway between the unsightly and serene" which sounded like so much proto-goth bullshit, but maybe they were foresaging this oddly compelling band. This one writhes (bass), rants (vocals), pummels (drums), and serenades (guitar) all at the same time, but all so effectively.
(9)
Hiroshima Rocks Around
"Closed Mouth": From Italy, HRA step on touchstones of AmRep-era pigfuck, hardcore, weirdpunk, and even skirt around jazz sometimes, and bring it all together in their own unique style. The flavor of AmRep is strongest on this particularly stout pounder which rides its insistent riff and deliberative rhythm like a tectonic plate into a subduction zone, and it creates just as much heat.
(10)
KK Rampage
"The Devil Is Here": What started as a decade-late-for-"Now-Wave" Chicago antics-rock with 20 unfinished tracks qualifying as an official CDR album improved in 2006 to become the most-improved band of the year. Yet somehow I knew from that first CDR I heard that I needed to pay attention and compartmentalize--if not toally shut out--all the haters in message board flamewars accusing these guys of registering fake profile to pose as ultra-fans. I fully believe these complainers were just upset over the band soaking the audience and throwing flour on them at a show during their formative days of antics being way ahead of song ideas. I asked them for permission to cull my favorite from their first fully awesome CDR-EP, but they insisted on sending a brand-new exclusive. It's a good one with a plodding powerful yet sexy rhythm and guitars skronking sideways, and for antics' sake, schitzo vocals swing from helium-rich to histrionic cro-mag.
(11)
AIDS Wolf
"Bethlehem Embargo Crystal": Montreal MySpace monsters turn out extreme-smack-talking haters and gushing lovers aplenty, and I'm totally on the posi side as this band and my radio show have a mutual love thang. I was hooked from the first listen because the music sounded like so much fun, and completely soaked in sweat. But just when the haters thought they had 'em pegged, the band added new dimensions, growing more psychedelic and rhythmically and stylistically adventurous...sometimes even settling the chaos to dwell in some lushness, as you can hear on this exclusive offering.
(12)
Arthrose Aujourd'hui
"Slept in Again": Vancouver's chapter of French weirdpunk's Oreille Equitable "Triple Alliance" (including
Cheveu
,
Crack und Ultra Eczema
,
A.H. Kraken
, and others) translates to "Arthritis Today." When the band's psych anesthesia attack locks you into stupefied traction, you may become so crippled as to not even twitch a joint. But lock away the Icy Hot and enjoy the ride. The band is two members of
Ladies Night
plus a French guy who's soon to return to home. I vote for arthritis today, and for at least a few more prolific months. Do you know that sleazy feeling of waking up past noon for days and days and days, even as you try to break the habit? This song captures that perfectly.
(13)
Factums
"Split Screen": This Seattle band are a cousin branch on the
A Frames
family tree with membership directly descending from
the Intelligence
and
Popular Shapes
. Their sound is not too unlike a cross between the droll DIY transistor artpunk of Boredom & Terror by the Intelligence and early
Bruce Haack
proto-electronica, perhaps also spiked with the more experimental edge of the British DIY music of the late 70's and early 80's featured on the Messthetics series. A release on Siltbreeze is slated for later. Dig the raddest, iciest keyboard riff since
Head & the Hares
covered "Lost."
(14)
M.A.L.
"Seven Minutes to Midnight": Michael A. Lucas--yes, that
Mike Lucas
--made a couple albums in the early 80's released under his initials of dark, brooding experimental rock that's something like
Factrix
with a 60's psych fascination, especially on 1981's Compendium Maleficarum LP, the album which includes this ultra-creepy song about incest sung from the point of view of a perverse father.
(15)
Little Claw
"Wayward Chief": Probably my favorite new discovery of the last year or so, this Detroit band almost slipped past my radar long enough to sneak their first LP past me, but fortunately I got a hold of the songs due to appear on their second LP, which will be out soon on Ecstatic Peace, and now I just want everyone to be ready for their onslaught of caveman pounding, scrawling psychpunk guitars, and the stunning performance of a female singer with delicate yin and ferocious yang in her voice, and her guitar playing. And sometimes it's all yang and no yin, and that's when Little Claw has the power to crush you.
(16)
Drivetrain
"Time Is of the Essence": If this sounds even slightly like
Dead Moon
to you, then you won't be surprised to learn that (a) this guitarist/singer and bassist/singer are a husband/wife tandem, (b) the drummer
Louis Sambora
was earlier the drummer of
Fred and Toody Cole
's pre-Dead Moon band,
The Rats
, (c) according to the record sleeve, when the van needs repairs, the old man would rather fix it himself than hire a mechanic, and (d) the record was released in 1988 on the Coles' own Tombstone Records. And, of course, this song is a great example of simple, honest rock 'n' roll that is essentially timeless!
(17)
Superstitions
"Hell on My Heels": Last year, I discovered a new world of young teen and early-twenty-something budget-rock appreciators that were--if barely on the edge--part of what we non-Southern-Californians have come to know as "the Smell scene." These guys are still into releasing a bevy of limited CDR and cassette releases, spackled in paint and glitter just like their DIY dayglo noiserock Smell friends, but they worship
the Mummies
and
Trashmen
like no one else born between 1975 and 1985, excepting the teenage
Donnas
. Erupting from the O.C.'s arm of this microscene came
Party Fowl
, whose ignited surf-trash-thrash showed incredible promise early. Now, Party Fowl's fully awesome, and the first band I'd recommend for a budget-rocker label honcho. Blew me away at the live show! Yet, I was not ready to be bowled over by the so much more mature sound of Seth from Party Fowl's one-man-band project, Superstitions. On his debut cassette,
No One Gets Out Alive
, I hear the traditional one-man-band set-up played well, like
King Louie
, but hybridized with another of Seth's fascinations, the
Country Teasers
. I hear it in the deliberate rhythms, his voice, and maybe even the lyrics...what I can make out anyway. Between this and
Junkpile Jimmy
, Orange County must be at the forefront of awesome one-man-bands.
(18)
God's Gift
"No God": From
the Buzzcocks
' New Hormones label comes something altogether unlike the Buzzcocks in every way except that certain unmistakable Englishness. Around 1979-80, God's Gift made this 12" and a 7" on the label before, I presume, fading into oblivion. Ungooglable, their story remains a mystery to me, but their completely dessicated plodding twangy postpunk is quite the rewarding test of patience, and again, not unlike the
Country Teasers
.
(19)
Dogbite 65
"We're Going to Tassle City": This Portland band was (still is?) a side project of Buck Rothy and Zack from
Danava
, and formerly
Princess Sweepstakes
, who became Danava after Zac Nelson moved down here to Sacramento and later started
Who's Your Favorite Son, God?
, and that's some crucial recent KDVS history that we'll be bragging about for the next decade or two. Buck and Zack made this three-song CDR-EP called "Motorbike Poop" with help from Zac Nelson on raucous, ridiculous background vocals. Musically, this reminds me of something you'd hear on the Nuf Sed or Brinkman labels about 15 years ago...psychedelic weirdpunk taking some cues from
Thinking Fellers Union Local 282
and maybe a couple from
Caroliner
, too. Ramp the progfactor to a stylish medium/high level for that final fugue. Shoulda been a vinyl-bound keeper!
(20)
Slicing Grandpa
"Fence": Seattle's supreme slingers of evil lofi dungeon drone drive a hooky bassline. Now, don't think boring 'cos I said drone. Writhing, scrawly, and creepy, their scuzzy noise reveals a great sense of humor. Not everyone will appreciate the joke, because of course it's very twisted and misanthropic. But if you have the heart for black comedy, and especially if you reach again and again for
Shadow Ring
records when you wanna let the laffs rip, then you oughta get to know Slicing Grandpa…and while you're getting familiar, also check out the related
Kount Fistula
, another branch of the
Tractor Sex Fatality
family tree of bands.
(21)
Deathgleaner
"Life With Lice": Tons of teens these days dress up in the tight girljeans, eyeliner, and assymetrically screenprinted undersized shirts, and this is the uniform to enjoy some overproduced screamo-goth-metalcore amalgam with a five-word band name that glorifies pain and agony. But not Griffin. This teenaged noise phenom originally from Kansas City but now skating between Portland and Olympia has an incredibly mature handle on just what agony should sound like. I'd say that this particular track (taken from the "PDX Artix 2006 Mix-Tape") compares well with some of the best material by
Prurient
. The ominous prelude reveals patience far beyond his ADD-riddled generation's normal capacity, and the convulsive derangement of the possessed itch-fest crescendo is just plain scary. You will be scratching at little burrowing phantoms in your beard, yet Griffin's probably too young to grow one! The idea that he may improve with age is perhaps the only thing scarier than this song.
(22)
German Shepherds
"Booty Jones": If
M.A.L.
's incest song wasn't enough to turn your stomach, you might still wanna brace yourself for this song, which I can only assume is an autobiographical song about pedophilia. The voice you hear is that of a man who killed himself awaiting trial for child molestation charges. The prosecution would have been really smart to introduce this song as evidence. The defense could've also used the disorienting synth sounds and gloomy bassline and trembling voice--a'la early
Cabaret Voltaire
--to build a case for insanity. Truly courageous stuff, even if it's totally repulsive.
(23)
N.213
"Revenger": Nic Hughes is best known to most of you as the singer/guitarist of
Shearing Pinx
and the drummer of
Channels 3 & 4
, who have been two of the most exciting Vancouver bands of recent years, but he's still got enough time and spark between all that to be in no less than two other bands of high quality, AND also have his solo project, N.213, which is unmistakably Nic for the most aggressive sounding delayed vocals you might ever hear. You hear it in Shearing Pinx, and you hear it on this solo track which was taken from his "SX-79" CDR album on his own ultra-prolific vanity label, Isolated Now Waves. There's a lot of variety among the several N.213 releases, but "SX-79" was very much a dark electro or dark-wave sorta thing, essentially very authentic but with an icy no-wave edge.
(24)
Men/Eject
"Draw": I've gotten two different stories about who this band was, but they remain a mystery. The sleeve of this 7" from 1980 had no band or label information, but the grooves contain some of the most compelling dystopian bleakness and alien-weird almost formless synthpunk I've ever heard.