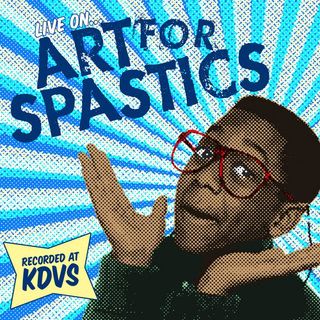 This compilation of exclusive performances is my extra thank-you gift to everyone who donates $25 or more to the KDVS fundraiser
during the next "Art for Spastics" broadcast, Monday, April 21 from 10:00 to 12 midnight Pacific time. You can stream it live from
http://www.kdvs.org/
or listen at 90.3 FM in the Sacramento Valley. You can call in or donate online. All the how-to information will be right there at the website during the broadcast. You can pay by VISA/MC or mail in a check.
If you know that you can't be awake to listen live,
but you wanna donate and get this compilation, then you can email me your full name and mailing address, and then we will enter your pledge at the appropriate time. Hit me up at rickele (at) gmail (dot) com. You can go ahead and Paypal $25 to bendjohnson (at) gmail (dot) com. Ben is the GM of KDVS and will collect all KDVS fundraiser payments via Paypal. It's on the up and up. If you pledge early by email proxy, tell me your shirt size and maybe a couple color preferences. We will send you a KDVS t-shirt in addition to the "Live on AFS" compilation.
I'm hoping to raise $1000 toward the $75,000 goal of the KDVS fundraiser. This is the only week every year that we ask for listener support, and it's very important because it provides over 2/3 of our operating budget. We believe that we rate this $$$ because we are one of a small handful of really great radio stations left in this world, and we're arguably the best at finding the newest music before anyone in the terrestrial or online radio game. 200+ volunteers of all walks of life, 120+ regular on-air personalities, and it's student-managed. It's quite the miracle that we've been so damn functional and accomplished so much in our 45 years with this diverse group managed by students. You might only ever listen to the AFS download, but if you've come to enjoy it weekly, please don't think of this as buying this comp for $25. You're supporting something that's really tremendous, and I'd invite you to listen to more of our programming. I would've sacked the show and moved away years ago if it weren't for KDVS. This is the best thing about living here...that I get to pay tribute to all the bands that inspire me and keep blowing my mind, and that I can spread this disease to all kindsa people all over the globe. And finally, compared to many other fundraisers, the value of our thank-you-gifts is pretty damn close to dollar-for-dollar....This ain't your typical tote-bag for $100 kinda thing. We love our listeners more than that!
Now, as for this compilation, what more can I tell you that you don't already see on the tracklist?
Sound quality ranges from "plenty fine" to "really good." How about "vinylworthy"? It won't disappoint.
Performances are all superb. There's some really exceptional moments of spontaneity here, such as Matt Horseshit's lyrical flub and awesome adlib bailout during the loosey/goosey take on "New Wave Hippies," or all the splattery psych-squalls that Damon a.k.a. TEETS pulls off during these tremendous Tyvek songs. I'm not sure if you've ever had that caught on a recording of any kind. Surely, it makes a song as familiar as "Mary Ellen Claims" become a whole new beast. I think that this version of "Feeding You" is Little Claw's most aggressive recorded moment. Lock up the razorblades for Rich Horseshit's sax solo on Pink Reason's despairing denouement. Los Llamarada is entrancing and totally masterful. And some of these songs, like Cheveu's "Sacha," aren't on any of the bands' records.
We appreciate having you as a listener regardless, now please....
(Thanks, Charles, for the awesome artwork!)
OH…P.S.!
Since someone else asked, maybe others are wondering....
You don't hafta pay by PayPal if you wanna pre-email your pledge. Just email me your full name and mailing address, and if you wanna pay by check, I'll give you the mailing instructions. If you wanna pay by VISA or MC, you will need to send me the # and expiration date, so you'll need to have trust in me if you do that.
All information we collect will remain private and never sold.
Thanks!!!