.
Download AFS v. 100
...or stream it
WOODEN SHJIPS
// Clouds Over Earthquake // Dance, California b/w Clouds Over Earthquake 7" //
Sick Thirst
*new
WOODEN SHJIPS // Shrinking Moon for You // Shrinking Moon for You 10" // Self-Released *new
IMPRACTICAL COCKPIT
// Squeezing Mileage // Poverty Is Violence/Adopt a Mindfield // Trd W/D 2003
IMPRACTICAL COCKPIT // Fromage // Trashed Is Good // Trd W/D 2002
NICE STRONG ARM
// Disenchanted // Reality Bath // Homestead 1987
LIVE GIRLS // New Quest for Action // split 7" w/ Nons // Grotesque Modern *new
NONS
// Operators // split 7" w/ Live Girls
MUTATORS
// Francine´s Bad Dream // Nerves 7" // Grotesque Modern *new
SHEARING PINX
// Caves // Caves 7" //
DNT
*new
IN FLUX
// 888 Slugs // Heroine Chic CDR //
Isolated Now Waves
*new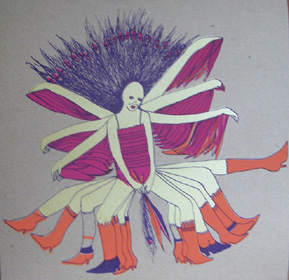 LEPRECHAUN CATERING
// Hippy ID // Male Plumage //
White Denim
*new
DOORMOUSE
// Chmura // v/a: Closet Full of Clothes // White Denim 2004
GIRL TALK
// LC and Lo // Bone Hard Zaggin' 7" // 333 Recordings *new
SAGAN
// Young Man´s Pleasure: owner´s basket // Resting Pleasures 7" // 333 Recordings *new
THE USA IS A MONSTER
// The Spirit of Revenge // Sunset at the End of the Industrial Age //
Load
*new
JAWS // War Harmonizerz // 3rd CDR-EP // Self-Released 2004
SALLY STROBELIGHT
// Transcend the Obvious // Starships in Silhouette //
Weird Forest
*new
DENDRITES
// Fishing Cat // Tanuki Crossing // Self-Released *new
EL-G
& CHARLENE DARLING // La Myopathie // Au Grand Dam du Jour // Self-Released *new
LE CHEVALIER DE RINCHY
// Bérénice // Mes Plus Belles Chansons d´Amour 7" //
Le Vilain Chien
*new
RENALDO & THE LOAF
// Lime Jelly Grass // Songs for Swinging Larvae //
Ralph
1981
RENALDO & THE LOAF // A Medical Man
LE CLUB DES CHATS
// Pump Up the Seed // Pump Up the Seed! 7" // Le Vilain Chien 2006
LAWRENCE WASSER
// Die Frogg // Der Lift 7" // Le Vilain Chien *new
ERASE ERRATA
// Giant Hans // Nightlife //
Kill Rock Stars
*new
DUCHESSES
// The Virgin Monkey // Demo CDR // Self-Released *new
COUGHS
// Colors and the Way They Make You Feel // Secret Passage // Load *new
NIGHT WOUNDS
// Jam Itune Master // DBA Tape Club split cassette w/ Friends Forever //
Deathbomb Arc
*new
VAMPIRE CAN'T
// Self-Titled Debutante // Key Cutter // Load *new
TRALPHAZ
// untitled // v/a: The Fruit Will Rot vol 2 set of nine 3" CDRs // Deathbomb Arc *new
ECO MORTI
// Grizzzzlyspottedowlllll // v/a: The Fruit Will Rot vol 2
RIOTSLUG
// Dancing at the Bit Terminal // Impossible Body Rotation //
Selva Elettrica
*new
MULTIPLEX // Wing Over This Land // v/a: To the Marrow ~ Japanese Deathnology // Toy´s Factory 1993
SADISTIK EXECUTION // Voltage by Sadism // K.A.O.S. // Shock 1996
SIEGE
// Drop Dead // Drop Dead EP // Relapse 1984/1998
PSYCHO
// Public Relations // Riches and Fame 10" //
Ax/ction
1991
BULGE // Don´t Touch Me // Penis Rising 10" // Fudgeworthy 1991
BULGE (feat. GG Allin) // Interior Depths
RANCID VAT
// Destroy Nature // Justice Is What We Do to Traitors // Brilliancy Prize 1989
NO TREND
// Fashion Tips for the 80´s // Too Many Humans... // No Trend 1984
TOXIC ATTITUDE // War Crimes // Stupid Teenage Music 7" // Depression 1983
TOXIC ATTITUDE // Tainted
SPLAYED INNARDS
// Social Retard // Abe Lincoln Gets His Chance 7" // Self-Released 1996
PUBLIC HUMILIATION // Pepperoni Pizza // It All Started When I Was Five // Goon 1989
MIKA MIKO
// See You There // C.Y.S.L.A.B.F. // Kill Rock Stars *new
PSYCHEDELIC HORSESHIT
// Quasar // Who Let the Dogs Out? 7" //
Columbus Discount
*new
TT
// Hypnogogia // demo CDR // Self-Released *new
HOME BLITZ
// Safe // Live Outside 7" // Self-Released *new
ABE VIGODA
// All Night and Day // Summer Tour CDR 2006 // Self-Released *new
After reading unanimous and uproarious approval for the
Wooden Shjips
on every new music blog I consider crucial, I became determined to track down their records before I was left in the dust of a feeding frenzy. But thanks to Soriano acquiring a limited stock of the Wooden Shjips' 10" and 7" EP's, now I can do my part to fill these Shjips' sails and send more record-geeky goonies aboard this new vjessel [
sic
] on their own hunt for future eBay treasure. These fellow bloggers who first discovered the Wooden Shjips received the 10" which the band apparently sent for free to a shrewdly honed recipients list, and thus esteemed tastemakers from Byron Coley to Brian Turner and Tom Lax began to herald this band as one of the present and future's brightest hopes.
Like a ghostly galleon emerging from a dusky fog, both Wooden Shjips records are shrouded in mystery with nary a mention of personnel or origin to suggest the band's time or place. Indeed, their Krauty godhead psych-fuzz space-scuzz sounds like a timeless classic, echoing Munich in 1971, Cleveland in 1976, the Lund, Sweden, of 1979, the best lesser-knowns of the
Nurse With Wound
list. Not surprisingly, Coley and co. waxed rather romantically about this precocious new San Francisco band, and I became a bit concerned that I'd be a little let down upon finally hearing them. But no! The Wooden Shjips do deliver!!
The 7" features a sublime, chiming opioid jam of soothing fuzz, meandering leads, and reverbed mouthbreathing, recalling heavier moments of early
F/i
and
Spacemen 3
. The B-side is a relentless artpunk instro seemingly cut from the Kraut mold. The 10" starts with a sidelong stunner of brilliant blistering fuzz locked into a mid-paced motorik groove. The lead guitarist is unconsciously savage. The B-side reveals the band's penchant for abstractions which still pack a lot of beauty and power.
Next we hear a couple by
Impractical Cockpit
. I remembered seeing an excellent performance by this New Orleans-based band at the Loft in Sacramento in 2001, and I bought their first LP from them which was lo-fi in the bad way, obscuring their brilliance. And then I never heard about them for four years until Load put out their amazing CD album, "To Be Treated," which so far ranks as one of my faves of 2006. I had read on the Load website that "To Be Treated" was their
sixth
album, and I was surprised to learn I'd missed the middle four. When, where, and how did they discover how to make a great record, I wondered. Of course, I was very stoked to find two of these middle LP's at Mississippi Records in Portland on last week's Pacific Northwest roadtrip. Surely, "To Be Treated" remains the best stuff I've heard by them so far, but both of these albums do have their great moments. Much murky noise, droning bleats, neurotic shrieks of distress, and yet more than a glimmer of hope. The 2003 album has a drum machine on it, which is an asset on "Squeezing Mileage," but a hindrance to (or more like an unnecessary distraction from) other songs.
Some friends were recently re-discovering
My Dad Is Dead
when one suggested that a lot of great stuff came out on Homestead Records back in the late 80's. I don't recall it being
a lot
of anything except mediocrity, interspersed with a few great moments. I also recalled that this "Reality Bath" LP by
Nice Strong Arm
was a favorite of mine in high school, so I had a listen for the first time in about ten years to see if it still sounded good. Alas, half of it's pretty dire, but this song and "Date of Birth" still charm me. I still liken it to a cross between
Joy Division
's doom and gloom and their contemporaries such as
Scratch Acid
.
Next up are two new bands from Vancouver, British Columbia, sharing a split 7" from a new label.
Live Girls
do not have a female singer, but the
Nons
do. One or both of the bands include someone from
Channels 3 & 4
and/or
Shearing Pinx
. Both bands do the frosty emotionally detached punk of passive/aggressive ambivalence, and it's mighty tasty. Hope to hear more soon! From the same label come
Mutators
, also dark and nasty and sorta post-punk with the emphasis on the
punk
. Very compelling female vocals on that one! Their tour which had been planned to include California was shortened unfortunately, but if you're in Portland, you should definitely go see them. I'm actually tempted to make it up there myself for that Food Hole show.
More Vancouver radness continues with a raucous now-wave rocker from Shearing Pinx, who along with
Abe Vigoda
and
Yikes
are one of best bands today to use dual guitars to creative darting/inter-weaving effect. The guitars just sorta snarl, gnarl, coil, and strike, and then splinter away during dramatic breakdowns. The clamorous reverbed vocals of Nic (also of Channels 3 & 4 and his solo
N.213
project) build up like stifling English Ivy up the hulking trunk of sound, threatening to suffocate everyone else. It's a rather paranoiac ride. Two thirds of the Pinx also contribute to
In Flux
which emphasize destructive and volatile lo-fi electro dysphoria.
Leprechaun Catering
come from Baltimore, and while I missed their much-lauded debut record, this new second effort is the sound of all experimental music genre ghettos getting shelled in a mortar shelling of record-breaking proportions. Really wild and great! I'm sure glad to see White Denim back in the biz of making beautiful records, too. This one's on razzle-dazzle orange vinyl and comes in a sleeve with a screen that may absorb you into boffo perplexion. The following
Doormouse
track is hyper breakcore by Wisconsin's greatest on one of White Denim's other pretty records.
Girl Talk
from Pittsburgh has a great new full-length CD out, but when you still crave more unthinkable juxtapositions of sample material integrated through the craftiest of editing, reach for this 7". Only 333 exist, so hurry! On this particular song, we get
Bell Biv Devoe
, the
Doobies
,
CeCe Peniston
,
Nirvana
, and a buncha rapstars in an audio equivalent of Pop Rocks and Coke. I can listen ten times in a row and find something else to laugh about with every Girl Talk creation. Also new from 333 are 333 copies of cosmic IDM from
Sagan
, a Bay Area electronic conceptual supergroup.
The new album by
The USA Is a Monster
just dropped on Load, and through three back-to-back-to-back listens, I think it's my favorite by them so far. I say that every year on the day the new USA Is a Monster album comes out. But they are a great band that keeps getting better. No one is any more interesting than them when it comes to the concept of vocal rhythms...at least, no other band I know of.
Rob Girardin (a.k.a.
Jaws
), I'm so glad you are back in California! Welcome back! In an effort to keep his legend alive in well in Davis, I've included in this week's AFS show Jaws' incredible anti-war protest song, and in my view, the best Dubya-era protest song so far.
No child...left behind!
Sally Strobelight
is best remembered around these parts as the vocalist and bassist of
Eat the People
, but now she is a solo artist in Portland, and her new vellum-enclosed translucent album is a stunner of droney psych anesthesia which sometimes straddles electro and freak-folk fences unlike any band or artist this side of
Indian Jewelry
, and maybe the
Dendrites
, too, whom we hear here off of their latest CDR of spontaneous compositions.
Él-G & Charlene Darling
offer a wonderfully weird CDR of warped folky psych that is totally gripping. I'm reminded of another of my favorite releases of 2006 so far, the "Evangelista" CD by
Carla Bozulich
, although this is not quite as brooding and seems to have a bit more sense of humor. Expect to hear a lot more, as Él-G sent me everything he's made so far, and it all sounds very good to downright awesome.
Now for the oddest and potentially most offputting record of the playlist...the new 7" by
Le Chevalier de Rinchy
. Taken in five-second doses, there's nothing too alienating about it unless you are one of those flag-wavin' idiot Americans who still orders
freedom fries
with their burger. But this contrapunctal baroque tickle-punk alternately flits, minuets, and waltzes out of a different musical keepsake box every five seconds! It's so decidedly fractured and bizarre, so very French, and sucking helium and laughing gas. I LOVE IT! But no one will be lukewarm about this one. Caveat emptor!
Painted into a corner, the only possible way to segueway outta Le Chevalier de Rinchy is
Renaldo & the Loaf
or
Caroliner
. It's Renaldo's turn this week, so enjoy his most hysterical moment.
I may finish this later...