Tonight's show featured a bonus hour
…
You must download two files for hear the whole thing.
I subbed for Janie Venom from 11-midnight. DJ's Ed & Remy filled in from 10-11 p.m.
Download bonus hour of AFS v.89 here.
…or stream it
My segment begins an hour into this two-hour program.
GUZZARD
– Supersonic Enemy of Evil – Quick, Fast, in a Hurry –
Amphetamine Reptile
1995
MARKED MEN
– A Little Lesson – Fix My Brain –
Swami
*new
ANGRY ANGLES
– You Fell In – Apparent-Transparent 7" –
Plastic Idol
*new
THE ANXIETIES
– Nowhere Zone – The De-Evolution Will Be Televised 7" – Plastic Idol *new
HEARTATTACKS
– Your Lies – Your Lies 7" – Plastic Idol *new
CARBONAS
– Count Me Out – s/t LP –
Raw Deluxe
*new
NERVOUS HABITS
– Get Shocked – split 7" w/ Cheap Thrills – Terminal City *new
PARTY FOWL
– Hold on to Your Butts – self-titled cassette –
Dementoid Tapes
*new
A FRAMES
– Honkeys – unreleased tracks CDR – no label 2000
CRASH NORMAL
– Bad Way to Get Fun – v/a: Tête de Bébé –
S-S
*new
FACTUMS
– Split Screen – Second Demo CDR – no label 2005
COUNTRY TEASERS
– White Patches – The Empire Strikes Back –
In The Red
*new
THINKING FELLERS UNION LOCAL 282
– Big Hands – Lovelyville – Matador 1991
IMPRACTICAL COCKPIT
– Passion of a Cop – To Be Treated –
Load
*new
COUGHS
– Malibu – v/a: Zum Audio vol. III –
Zum
*new
CHILD ABUSE
– Blessed from the Bowels – v/a: Zum Audio vol. III
PINK MOUNTAIN
– Circling the 7th Planet – self-titled –
Frenetic
*new
…WORMS – title unknown – self-titled LP – Marriage *new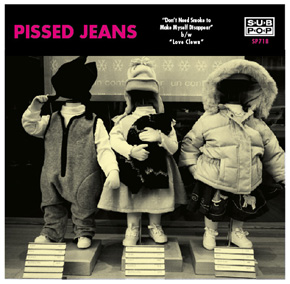 PISSED JEANS
– Don´t Need Smoke to Make Myself Disappear – new 7" – Sub Pop *new
PISSED JEANS – Closet Marine – Shallow –
Parts Unknown
2005
Download part II of AFS v.89
...or stream it
This is the full regular 2-hour program.
RABBITS
– Lungs – split LP w/ Under Mountains – Eolian *new
YELLOW SWANS
– Psychic Secession – Psychic Secession – Load *new
DEAD/BIRD
– Deny Impuse or Let It Ride – 2006 Tour 3x3" CDRs split/collab w/ Argumentix – self-released *new
BRIAN MILLER
/
KITES
/
KEVIN SHIELDS
/
REN SCHOFIELD
– Rings – Rings collab 3-inch CDR –
Deathbomb Arc
*new
DYNASTY
– TFF – Animal Disregard 7" – Dynasty *new
OVO
– Miastenia – Miastenia – Load *new
COUGHS – Never Work – Bent Babies 2006 Tour Edition – self-released *new
SILVER DAGGERS
– Keep Away – v/a: Zum Audio vol. III
LAKES
– Song of Investment Capital Overseas [Art Bears] – v/a: Zum Audio vol. III
CHILD PORNOGRAPHY
– Fuck the Reverb pt. 2 – split 7" w/ Pleasey Please –
Silencio
*new
WERMUT
– Media in Vita in Morte Sumus – v/a: Electronic Renaissance –
Enfant Terrible
*new
ESPLENDOR GEOMÉTRICO
– Blanco de Fuerza IV – 1983-1987 –
Geometrik
TRISOMIE 21
– Joh´Burg – Joh´Burg 12" EP – Play It Again Sam 1986
NIGHTBLOOMS
– Starcatcher – self-titled – Seed 1993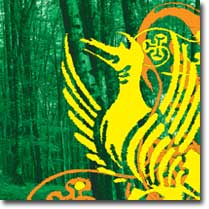 THE GOSLINGS
– Statuette – Space Heater/Perfect Interior –
Crucial Blast
*new
INCA ORE
& LEMON BEAR'S ORCHESTRA – Queen Anne´s Lace Tape – Queen Anne's Lace Tape CDR – no label *new
AMPS FOR CHRIST
– Proof Man – Every Eleven Seconds –
5RC
*new
AUTO DA FE
– Just Now – The Spectre –
Secret Eye
*new
HANS GRUSEL'S KRANKENKABINET
– Five Sides Folded – Happy as Pitch –
C.I.P.
*new
POD BLOTZ
– Underneath the Sturminus Bell – The Swamp Command – Fish Pies *new
SWORD HEAVEN
– Town Hag – Bored Fortress Singles Club split 7" w/ Raccoo-oo-oon –
Not Not Fun
*new
OCRILIM
– untitled – Anoint –
I and Ear
*new
OCTIS
– untitled – split 7" w/ Child Abuse –
Forge
*new
CIRCLE
– Coda – Earthworm –
No Quarter
*new
CREATE(!)
– Durindana – A Prospect of Freedom –
Sounds Are Active
*new
When I get to sub a show for another DJ, I often enjoy taking that as an opportunity to play music that reflects the regular DJ's shared interests with mine, and often this means I get to play something that you normally wouldn't hear on "Art for Spastics." It's rare that I can fit in punk rock of the melodic, foot-tap'n and finger-snap'n variety with some of the freakier noisy weirdo shit. And such is the case with the new Marked Men album, which threatens to take the band across the pop-punk barrier and into pop-rock territory. Many a fan of the pre-Marked Men band, the Reds, have complained that the Marked Men are a pissweak disgrace of snot-garage masters gone emo rock, and this third Marked Men album would upset them even more, no doubt! But it's a fine album. Not as many speedy cuts with deep grooves like the last one, "On the Inside," but perhaps it's a grower. In any event, here's my early fave track!
Did I skip Guzzard? Hey, whenever I get the itch for snappy and melodic and yet impactful, I dig out the second of the three Guzzard albums. "Quick, Fast in a Hurry" has my favorite ultra-tight pistol shot of a snare sound, and their drummer Pete Beeman was as nifty as he was powerful. Todd "Hometown Atrocities" Urick and I saw them live in 1995 at the Bottom of the Hill in San Francisco. They were touring with Unsane, who I had been ambivalent about since their great early singles. A buncha baldheads in Biohazard shirts showed up for Unsane, and as Guzzard played, they laid back smirking in disapproval over what must've sounded to them like the band All meets Nirvana. I'm not sure why this band was considered such a trifle, but they seem like perhaps the least remembered AmRep band these days. But I remember them very often and feel the need to drum along to the album on my car steering wheel.
How I miss the leather-wrapped steering wheel in my 1992 Toyota Cressida...it had the best simulated snare sound...like a
thwap
with a sorta springy-ness to it. And I could do rolls and fills across the middle of the steering wheel which sounded almost like real toms. Pre-airbag days! Why did that 3.0-liter inline 6 cyl. (7MGE) engine hafta blow???
Doesn't the riff of this Angry Angles song sound familiar? I can't place the band exactly...maybe I need to listen to everything by the Adverts again because that's my first hunch. I can only place it as the UK in the year 1978. This song is beautiful! We get two more from brand-new singles on the Plastic Idol label run by KDVS colleague Mario "the Analyst." He was on the air again as a guest sub recently, and I could tell he was catching the radio disease again. Klinger and I are thinking about launching a petition drive to demand him to return to the airwaves.
Since the last time we heard the Carbonas, I found about something about their prehistory which really surprised me. Members of this band were in the sorta emo-tinged hardcore band Quadiliacha in the mid- to late-90's. Considering how authentic late-70's the Carbonas are...this seems even more miraculous! I mean, seriously, I thought Quadiliacha were pretty iffy.
more notes updated later...