Download AFS v.85
...or stream it
GO-BETWEENS
– I Need Two Heads – I Need Two Heads b/w Stop Before You Say It –
Postcard
1980
DESPERATE BICYCLES
– Trendy Feelings – Remorse Code – Refill 1979
MUDHUTTERS – Water Torture – v/a:
Killed by Death
vol. 1: Swingalongamuck – Redrum 1979
PICTURE CHORDS – A Cause des Voisins – v/a: Waiting Room –
Object Music
1980
TAKE IT – How It Is – v/a: Messthetics Greatest Hits: The Sounds of D.I.Y. 1977-80 –
Hyped2Death
*new/1979
BLACK TIME
– Safe in Heaven Dead – Blackout –
In the Red
*new
HOSPITALS
– Sick Bird – "Bored Fortress" singles club split 7" w/ Afrirampo –
Not Not Fun
*new
YUMA NORA
– You Can´t Get Nothing for Gold Fronts – v/a: Why Is Anything Forbidden? vol. 2 –
Deathbomb Arc
*new
DEWEY DECIMATOR R.I.P. – Flying Duo – v/a: Why Is Anything Forbidden? vol. 2
COCK E.S.P.
w/ DJ ENORMOUS GENITALS – (Never Gonna) Bounce – v/a: Why Is Anything Forbidden? vol. 1 – Deathbomb Arc 2004
CREAMSICLE ON WHEELS – Soldier One – v/a: Why Is Anything Forbidden? vol. 1
RAH BRAHS – Mr. Clarinet – v/a: Release the Bats –
Three One G
*new
CLIPD BEAKS
– We Will Bomb You (We Will) – Preyers –
Deleted Art
/
Tigerbeat6
*new
CHILD PORNOGRAPHY
– Fuck the Reverb pts. 1 + 2 – split 7" w/ Pleasey Please –
Silencio
*new
ICH BIN – Méthanol – Obéis! –
Poutre Apparente
*new
ICH BIN – Trafic d´Organes
LAWRENCE WASSER
– Piggy on a Rooftop – v/a: Tête de Bébé –
S-S
*new
KANIA TIEFFER
– Treat Me Like a Dog – v/a: Tête de Bébé
DEEKAY JONES – New York, New York – v/a: The Pulse of New York – Glass 1983
THE SECONDS
– Dogsicle – Kratitude –
5RC
*new
NIGHT WOUNDS
– Caving In – Advance Tracks CDR – self-released *new
SLUMS
– Waiting Rooms/Chained to the Wall – Demo CDR – self-released *new
MERZBOW
– Xa-Bungle – v/a: Three Minute Symphony – Xtract 1984
CRASS
– Shaved Women – Best Before – Crass 1979
CRASS – Bloody Revolutions – Best Before 1980
CRISIS
– Holocaust – Holocaust Hymns –
Apop
*new
CRISIS – Frustration
KARMA SUTRA – How the Other Half Die – v/a: We Don´t Want Your Fucking Law! – Fight Back 1985
TOXIC WASTE
– Good Morning – v/a: We Don´t Want Your Fucking War! – Fight Back 1984
PART 1 – Black Mass – Pictures of Pain –
Pusmort
1985
SEPTIC DEATH
– Hardware – Need So Much Attention – Pusmort 1984
GIFT OF GOATS – Death to the Outsider – v/a: 4-Band Split LP –
Omnibus
2003
DANIEL FRANCIS DOYLE
– Wrapped Up – Who Are Your Customers? –
Furniture
*new
We begin this week with the venerable classic Aussie pop band the Go-Betweens, who tragically lost singer/guitarist Grant McLennan this weekend at the all-too-early age of 48. People are always surprised to learn that I can enjoy a band as sweet and melodic as this, but I always counter that by proclaiming that among the "formalist pop" bands of the post-punk era, the Go-Betweens are among the very best because they were so damn clever, both musically and lyrically. If you never tried listening too closely to them, I recommend you try it.
The Desperate Bicycles are often hailed as the U.K.'s first DIY band; their first single came out on their own Refill label in 1977, and their slogan--"It was easy, It was cheap, GO AND DO IT!!!"--became emblematic for a stylistically varied movement including bands as sweet as the proto-twee pop-punkers Thin Yoghurts to the aggressive peacenik polemics of Crass and their many affiliated bands. For this reason, I'd rate them as at least as important as the Damned or The Clash.
Another superb U.K. DIY band that followed in the tradition established by the Desperate Bicycles were the Mudhutters. The brash Jagger-like swagger and emphatic drawl-out of end-line vowel sounds, the aggressive barre chord stroking, and the heavy plodding rhythms made them one of U.K. DIY's ballsiest bands. "Water Torture" is an absolute classic!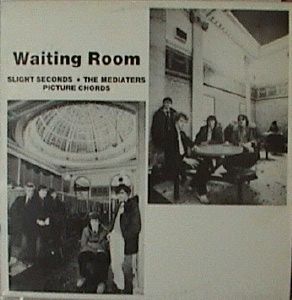 Object Music is obscure to most Americans, but in the late 70's and early 80's, they released a slew of interesting music that stylistically descends from the inspiration of these earliest of U.K. DIY bands. This "Waiting Room" compilation comprises three outstandingly clever bands, the Slight Seconds, the Mediators, and the Picture Chords. We hear these Picture Chords here with their only song from the LP, a very unusual 13-minute opus which follows chirpy powerpop with an esoteric mindtrip of an outro which rather reminds me of "Concorde Square" by Crispy Ambulance.
If you really wanna experience the enormous effect that the Desperate Bicycles' music and approach had on their countrymen, there is no better or more convenient collection than the latest in Hyped2Death's "Messthetics" series, "Messthetics Greatest Hits: The Sounds of DIY 1977-80." I chose the track by the band Take It which is chopped-up angular artpunk that lurches and skids, stops and starts, or is it just an elliptical sorta rhythm that clunks along? Does it infuriate you? Sounds like a personal problem to me. I love it!
Black Time have this fantastic new album on In the Red, and the come from Scotland. I was excited to play this wonderfully fuzzy song for you and announce their plans to tour the USA this summer, but alas, those plans have been scrapped. Reportedly this band slays live, and this record does not thing to make me question that. Stripped-down garage-punk rawness with a few weird touches that might really appeal to fans of the Hospitals, such as the ridiculous reverb drenches that creep in now and again. Naturally, that's why I had to drop that Hospital request in immediately afterward.
Here's another double-shot from Deathbomb Arc's awesome new tribute to Cash Money Records, "Why Is Anything Forbidden? vol. 2," and it's a juxtaposition that looks awful on paper, but it plays out perfectly thanks to Yuma Nora ditching their free improv rhythmic staple of Rashied Ali-style
accelerando
and
ritardando
for the strutting double-triplets of hip hop. Amy is such a versatile vocalist, so is it really a surprise to hear her pull of the most lilting rap flow ever? Dewey Decimator R.I.P. are a complete mystery to me, so I can't tell you anything about them, or even whether they are being ironic or not. But both bands here are showing us free twee's hip hop edge. Yes, guys...I'm still trying to make that "free twee" genre stick.
Y'know, there was a volume one of "Why Is Anything Forbidden?" The first CD came out a couple years back, and it was a tribute to No Limit Records. Cock ESP with DJ Enormous Genitals give us a disjointed cut'n'paste hip hop track, and Creamsicle on Wheels play it out with a very naturally segued soothing, laid back indie pop instro that still lends itself to the hip hop headbob. Volume two is better on the basis of the incredible variety, but both discs sound like really great freeform radio with the free-flowing mastering, close-together edits, and generally exceptional track sequencing. If you are a label and wanna make a compilation, please PLEASE
PLEASE
place a premium value on track sequencing!
It's been a few years since Three.One.G released "Dynamite With a Laserbeam," a tribute to Queen. I don't like much Queen, but I really loved this compilation, especially for Weasel Walter's outrageous take on "Bohemian Rhapsody" which makes my shortlist of best cover versions ever. So, when I learned that Three.One.G was planning a tribute compilation for the Birthday Party, I pencilled it in as possibly the album of the year. Well, maybe that was a little overzealous. Too many of the bands on this disc take all the writhing and seething outta the originals and fail to re-inject them with anything interesting. Melt Banana pleases as usual, and this Rah Bras take is another highlight, but much of this disc just sorta bores me. And you should know by now that it's hard for me to write anything negative or ho-hum even about any record. So,
caveat emptor
.
A lot of people in Davis and Sacto are really looking forward to seeing Clipd Beaks perform live at the all-day/all-night outdoor music festival,
Operation: Restore Maximum Freedom III
. Their new "Preyers" CD is a sexy, slinky, soaring, psychedelic album of postpunk disco anesthesia. I imagine it would go great with a laser light show. We do have lasers and fog machines galore at the
DAM House
, so maybe we will bring it on June 3 to Plainfield Station. If you are within a 100-miles radius, I strongly suggest you come to ORMF III. Party like you're in a Coors Light commercial filmed on location at a Texas backyard BBQ...'cos that's what the first two ORMF's have been like.
I enjoyed myself immensely at the Child Pornography show at the Delta of Venus in Davis (which far too many people slept on!), and I wiped out their merch table. This 7" is the best thing I scored there, and it reveals a darker side of the band, driven by a richer, fuller keyboard tone which sounds a lot more like a vintage synth than the band's usual consumer-grade Yamaha. I think this is CP at their best!
Here's a couple more by the best synthpunk band ever from the island of Corsica, Ich Bin! This is a player for reissue LP of the year. Of course, the album was only previously released in a very limited CDR edition.
Another early nominee for album of the year is the fantastic "Tête de Bébé" LP. Here's two more songs from it which cull from the Tubeway Army and Der Plan.
I know nothing of Deekay Jones, but as far as dance music goes, this is nice, even mind-stimulating rather than mind-numbing despite a heavy beat and no words other than "New York, New York." I mistakenly thought it was gonna be a new version of the song by Grandmaster Flash and the Furious Five.
This new CD by the Seconds sounds a lot better to me than the first one. Less uniformly robotic, more unpredictable, and no less than what you expect from a band whose members are also in Ex Models, Yeah Yeah Yeahs, etc.
Night Wounds are also coming to Operation: Restore Maximum Freedom III on June 3, and guitarist/singer Toby promises to jump off the roof and get a totally awesome sunburn. These guys have the bleak tone of the original no wave of New York, but they're insistent, oppressive dance beat and singalong group chant choruses also bring a palpable party vibe that cannot be denied. I've seen 'em twice in the last six months, and they've been great both times. This is one of the most exciting bands on the west coast today. This song is from a forthcoming debut album...watch for it!
Speaking of bleak tones of no wave, Slums are a band from Portland, Oregon, who probably have the most authentically bleak guitar tone, immediately recalling Glenn Branca's quasi-eastern chime from the Static and Theoretical Girls. But what makes them exciting and all-new is the militant grind-informed drumwork and the male/female zombie-like choruses. Formerly known as the Hyacinth, Slums shares members with Die Monitr Batss, all or most of the band were previously in Sleetmute Nightmute, who were amazing live and had a tremendous album which remains unreleased. It seems that Slums hardly ever plays live even in their hometown, but they are scheduled to perform at the
End Times 2 festival
in St. Paul, Minnesota, from June 23-25.
Dating back to 1984, this is the earliest Merzbow material that I can find, and when you hear, I'm sure you'll agree that this sounds a lot different than the noise he's become synonymous with. This is rhymthic proto-powernoise industrial music, not unlike what Esplendor Geometrico were doing at the time.
I haven't played Crass in years and years, but ever since I saw Le Flange du Mal perform a cover of "Shaved Women" live at Undisclosed Location in San Francisco a couple months ago, I've been thinking about what an outstanding band they were, and how much they really helped progress my own definition of punk rock with songs like this and "Bloody Revolutions" which intersperse the raucous punk with interludes of musique concrète-inspired found-sound collages. I think that hearing this at age 13 or 14 made me ready to hear not only The Ex, but also Merzbow.
Another British DIY band that was political and righteous have just been saluted with an excellent anthology CD--"Holocaust Hymns"--which features all the essential studio recordings of the band Crisis. I've been confused about this band for years. Misinformed amateur punk historians told me that Crisis was a white power band, which was sorta reinforced by my learning that the band was pre-Death in June, and I know Death in June has flirted with fascist lyrical references and iconography. Without ever hearing the song "White Youth," I figured it was a supremacist rallying cry. I'm sad that I ever bought into that because this band made some great music, and anti-racism was the primary plank in their platform. For people who think the Warsaw demo is better than any Joy Division album, (a) you are wrong about Warsaw being better, and (b) you really oughta hear Crisis. Straddling the blurry boundary between punk and post-punk, Crisis have that bass-propelled urgency that you love. Members of Crisis also landed in Sol Invictus.
Next up we have some more peacepunkers by Karma Sutra from England and Toxic Waste from Northern Ireland. Karma Sutra certainly have that bass-driven doom 'n' gloom postpunk sound, too. I'd like to hear more of them, but I'm not sure where else to look besides Crass' "Bullshit Detector" compilations. Toxic Waste are like early Disorder if they were led by a teenage girl singer. Each of these are off related compilations from Fight Back Records.
Part One made this one LP on Pusmort, and this song also appears on the amazing "Cleanse the Bacteria" compilation. The Part One LP has cover art intricately hand-drawn by Nick Blinko of Rudimentary Peni, and the voice on the record sounds oddly like Nick Blinko, too. But precious little personnel info is available on the record, so your guess is as good as mine. "Black Mass" is the best song, and the rest of the album also sounds like a cross between U.K. peacepunk and Banshees-style proto-goth.
Pusmort was the original label in the 80's run by Pushead of Septic Death, Idaho's greatest musical export (the band would later center their activities in San Francisco, and in the 90's, Pushead's label activity would be renamed Bacteria Sour). Septic Death were one of the fastest and most savage thrash bands when they barreled ahead at full bore, but they were also known to flirt with a bit o' goth flair...swirling chorus-pedal effects during slow intros and breakdowns. Here's an old fave of mine by the band which shows both sides.
Like many other HC/punk fans, my favorite record cover artist then was Pushead, but if I had a favorite illustrator now, I'd say it's Sacramento's own Troy Mighty who makes grotesque yet sympathetic characters with a scant and minimal technique, but often in front of a background that's intensely complex squiggles that also recall the maniacal work of Nick Blinko. The characters repulse you, but the backgrounds engross you. A Troy Might original enfolds the only 7" by the Davis/Sacto legends of bombastic thrash'n'roll, Gift of Goats. With band members scattered throughout four different cities, I think this band's pretty much done now. Bummer deal, but I've got great memories of the dozen or show Goats shows I saw. Musically, I'd say they were somewhere between mid-period Poison Idea and Skull Kontroll. Totally explosive energy! They didn't play too many dates outta town, but whenever they did, they never really showed themselves at their best. Too pooped from partying all night in KOA campgrounds, too wasted to set up quickly or play tightly, the band made many a Portlander frown. And what a shame...I drove nine hours mainly to see how my PDX friends would react to them. Mainly it was just a lot of quizzical looks...like, "What's with the dirty dreadie?" That's Mick Mucus, simply one of the greatest individual human beings I've known, and perhaps best known for his band Anal Mucus.
Daniel Francis Doyle is a one-man loopbuilt noise-rock band from Austin, Texas, and he's also the drummer of the Tuxedo Killers who will rule the basement of the Turtle House in Davis on Thursday night. Don't miss out!